Justin Bieber faces legal issue over song
View(s):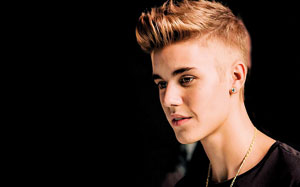 Justin Bieber is facing a legal challenge for his hit song 'Sorry'. The Canadian artiste and his song writing collaborator Skrillex are facing claims that 'Sorry' is very similar to an indie track called 'Ring The Bell' released in 2014 by White Hinterland. The writer and artiste whose real name is Casey Dienel claims her vocals have been looped throughout 'Sorry' and further instrumentals areas of the song she claims to be identical to her song 'Ring The Bell'. The aggrieved artist had wanted traces of her song removed from Bieber's song but as no action was taken she has decided on legal action. Meanwhile Skrillex has responded by saying he never copied and has indicated on social media how the vocal melody was formed using a cappella demo of 'Sorry' by the song co-writer Julia Michaels.
Calvin Harris has cancelled his appearances in Las Vegas as he is recovering from a car accident (as reported her last week). Harris whose real name is Adam Wiles is reported to have suffered a laceration on his nose and has been asked to rest for a short time. The DJ/producer is expected to make a full recovery.
Katy Perry has announced she ready to tour in 2017. Perry has not disclosed if she is planning the tour to coincide with a new album, the news give a clue she may be working on her fourth album. Her last album 'Prism' came out just as she began a tour in 2013.
While One Direction is taking a break as group members are involved in various other activities. One member Harry Styles has started work on his maiden film role on the set of Dunkirk as he plays the role of a private British soldier. The story is based on the mass evacuation of allied troops from the French beach during World War II in 1940.
Adele who is now on the European leg of her Adele Live 2016 world tour called out to two concert goers last weekend in Verona, Italy to stop filming the show as she was there in real life. Adele has just released the third single from her album '25' called 'Send My Love (To Your New Love)'
It's another week of celebration for Drake's song 'One Dance' as it secured a seventh week at the No:1 spot on the UK singles chart. The track may be tiring out now as 92,000 combined sales helped it clear the week. 'One Dance' is the longest No:1 song on the UK chart since Leona Lewis's 'Bleeding Love' in 2007, which also had a seven reign.
The battle on the top 10 on the UK singles chart elsewhere seemed tight as most song stayed put to their previous week positions. The song that gained a significant movement upwards was Drake's 'Too Much' featuring Rihanna.
UK TOP 10
TW LW
1 1 One Dance – Drake ft:
Wizkid & Kyla
2 2 Can't Stop The Feeling –
Justin Timberlake
3 3 This Is What You Came For – Calvin Harris ft: Rihanna
4 4 Cheap Thrills – Sia
5 6 No Money – Galantis
6 8 Too Good – Drake ft: Rihanna
7 5 I Took A Pill In Ibizia – Mike Posner
8 7 Panda – Designer
9 9 Cake By The Ocean – DNCE
10 10 Work From Home – Fifth Harmony ft: Dolla Sign