Classical Guitar workshop and Concert
View(s):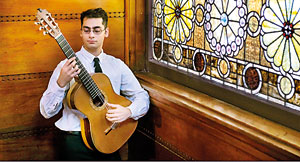 India Cultural Centre, Colombo in association with Amarnath Guitar Akademi, Colombo and Asian Guitar Federation will be organising classical guitar workshops and Concerts by Aakash Saha,  Bachelor of Music from Chicago College of Performing Arts, Roosevelt University, USA from June 7 to 11 2016 at Colombo and Kandy.
Asian Guitar Federation is a growing network that connects   music organisations with the aim of enabling music education, performance opportunities, festivals and competitions for the development of classical                 guitar in Asia. Sri Lanka is an active member-nation of AGF, having already hosted maestros from US, Thailand and India.
Aakash Saha is a virtuoso classical guitarist, chamber musician, composer and pedagogue from India. He has trained directly under legendary classical guitarist  Denis Azabagic (Bosnia-USA). He completed his Bachelor's of Music    degree in    Classical Guitar Performance from Mr. Azabagic's studio at the  Chicago College of Performing Arts, Roosevelt University.
He has participated in Twents Guitar Festival (The Netherlands), Koblenz  Guitar Festival (Germany) and Tampere Guitar Festival (Finland).
He is one of the founder and director of Calcutta Classical Guitar Society and driving force behind the Indian Guitar Federation and Asian Guitar federation.
WORKSHOPS
June 8 — Classical guitar workshop
10.00am-1.00pm, 2.30 pm-5.30 pm
June 9 — Classical guitar worksho
10.00am-1.00pm, 2.30 pm-5.30 pm.
CONCERTS
June 7 — Classical guitar concert at Overseas School of Colombo, Bataramulla   at 9.30am
June 10 Classical guitar  concert at Russian Cultural Centre, at 7.00 pm
June 11, Classical guitar  concert at  Chandananda Buddhist College, Kandy at 6.30 pm
For registrations amarnathguitar@gmail.com
Contact No 0773475609.