French drama movies at AF Colombo
View(s):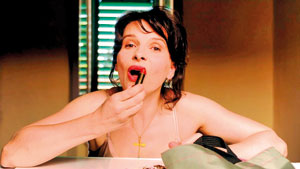 Alliance Francaise de Colombo screens French drama movies in its weekly film screening on Tuesday and Wednesday.
Comedy drama 'Combien tu m'aimes' directed by Bertrand Blier  will be screened at 3 pm on Tuesday June 7 and at 6.30 pm pm on Wednesday June 8 at the auditorium  AF, Barnes Place, Colombo.
In Paris, after winning the lottery, the clerk François goes to a bar in Pigalle and offers one hundred thousand Euros per month to the prostitute Daniela to live with him until the end of his money. François is a lonely man, with heart problems and Daniela stays with him for eight days. Then, she decides to come back to her man, the mobster Charly, but she misses François and returns to his place. But once a whore, always a whore.
Another 2010 drama movie 'Copie conforme' directed by world renowned Iranian filmmaker Abbas Kiarostami  will be screened at 3 pm on Tuesday June 14 and at 6.30pm on June 15.
While touring Tuscany, Italy, promoting his new book, English author James (William Shimell) meets French store owner Elle (Juliette Binoche), and the two hit it off, deciding to spend a free day together. They travel to a nearby town, get coffee, visit a museum and pretend to be recently married in what turns out to be a popular wedding destination. As these two strangers get to know each other, however, it becomes clear there's more to their new relationship than meets the eye.