Sweet melon big hit in east to beat the heat
View(s):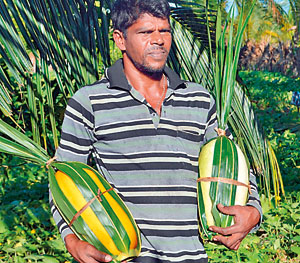 Soaring temperatures in the eastern province have turned the common 'seeni kekiri' -(sweet melon)- a variety of cucumber- into a much sought-after thirst quencher. Farmers and traders bring in large quantities of the fruit to the Batticaloa town square as well as along the Batticaloa-Kalmunai Main road where they make a brisk sale.
The soaring heat has seen an increased demand for the cucumber as many people see it as a natural way to quench their thirst. Soaring temperatures have driven up prices and today a 2-kg fruit costs between Rs. 150 to Rs 200.
Ayurvedic physicians claim the fruit has many health benefits including prevention of arthritis, cancer as well as providing a remedy for renal ailments and preventing dehydration.
The present heat wave has turned this once scarce looked at fruit into an income earner.
In Kirankulam the cucumber is cultivated on a large scale.
Sellathami Mahendiran (45), who is engaged in cucumber cultivation says the harvest adds to his daily income by Rs. 1,500 to Rs 2,500 during the season.
Cultivation of cucumber normally begins in October and it is harvested in April.
Pix and text by Deva Achchudan