Container driver remanded on charges of negligence, failure to prevent accident
By Kasun Warakapitiya
Kelaniya railway bridge incident
View(s):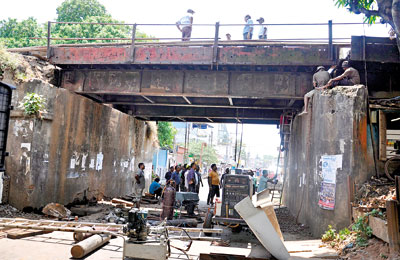 The magistrate's court has ordered to remand till April 19 the container driver involved in Friday's accident at Kelaniya railway bridge, causing disruption of trains and inconveniencing the public,Peliyagoda Police OIC Ajith Prasanna said.
He said the magistrate has also ordered police to produce the container company owner on the same day in courts.
IP Prasanna said the accident had taken place in the early hours of Friday when the container driver tried to drive his container under the bridge, despite warnings that containers cannot use that road.
He said the vehicle had crashed into the bridge causing dents in the railway tracks, and the driver, Shanmugan Murthi (38) resident of Rakwana, who abandoned the vehicle soon after the incident, later surrendered to police.
The OIC said the suspect was charged with negligence, failing to prevent an accident, reckless driving, non reporting of an accident and causing damage to state property.
A railway official said the accident caused prolonged delays to trains on the main line as well as on the northern line as trains were halted midway.  
The Peliyagoda Police have also been ordered to take steps to stop tall vehicles from going under the Kelaniya bridge to avoid damaging the rail tracks, Deputy Transport Minister Ashoka Abeysinghe said.
Mr Abeysinghe said the police were told to erect posts at both ends of the road to stop tall vehicles entering. He further added that container yard owners were also warned to avoid sending vehicles via the same route.
He also explained that the police will file legal action against the driver, while the railway will claim compensation from the container company owner after the cost of the damage has been estimated.