New Asgiri Mahanayake taught at Asgiri Pirivena and leading schools
By L.B. Senaratne
View(s):
Ven. Panditha Warakagoda Dhammadassi Gnanaratne Thera (74 years) was on Thursday unanimously elected as the 22nd Mahanayaka of the Asgiriya Chapter.
Unprecedented security saw Police cordoning off the historic Poyage on the day of the election while the media was barred from the premises until the election was over.
The election of the Maha Nayaka Thera was presided by the Senior Anunayake thera Ven. Panditha Wendurawe Upali thera.
Asgiri Maha Vihare secretary Ven. Panditha Anaamaduwe Dhammasdassi Thera read out the proceedings after the election. He said the Karaka Sangha Sabha came to a unanimous decision regarding the election of the 22nd Mahanayake Thera in keeping with the tradition of the Maha Vihare.
About the Mahanayake Thera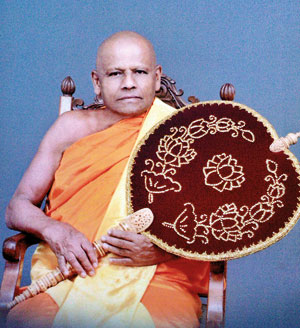 The newly elected Maha Nayaka Ven. Panditha Warakagoda Dahamadssi Pagnananda Gnanaratne Thera was born in Warakagoda in Harisapattuwe in the village of Dooldeniya on March 18 1942. Before he entered monkhood his name was Rajakaruna Navaratne Attapattu Mudiyanselage Ratnayake.
The Mahanayake's father was Rajakaruna Attapattu Wasala Mudyanselage Mudiyanse and mother Hingulwela Alakoldeniye Dukganaralage Pinchi Amma.
The Mahanayake had his primary education at Warakagoda Kanistha Vidyalaya and then he was ordained on April, 7, 1955. His mentors included Ven. Panditha Udupitiye Sri Sumangala Thera, Medagoda Pannananda Thera, Aludeniya Sri Ratnapala and Rambukwelle Sri Sadananda Thera. After his ordination; he had his education at the Badulla Vidyathantha Pirivena, Asgiri Maha Vihare and Wattegama Dharadeepa Privena. At the Asgiri Privena the Thera obtained his "Pracheena" Diploma. The Mahanyake was conferred with Upasampada by the Mahanayake of Asgiri Yatwatte Dharmaratne Thera on June 9, 1962 at the historic Asgiri Poyage.
The Mahanayake Thera graduated as a 'Sasthrapathi' from the University of Vidylankara in 1970. He taught at the Asgiri Privena and at five leading schools in the country. For his efforts in the education field, in 1990, the Mahanayake was elected as a member of the Asgiri Karaka Sangha Sabha during the tenure of Mahanayake Pallipanne Chandananda Thera. In 2000, the Thera was elevated to the position of a senior member of the Karaka Sagha Sabha and in the same year, Asgiri Mahanayake, Udugama Buddhrakitha Thera appointed him as the trustee of historic Muthiyangana Raja Maha Vihare, which position he holds even today.
He comes from the Urulewatte lineage.