Scorching sun bears down on already 'burnt out' consumers
Although the cost of living is affecting shoppers and traders this season, Pettah is as always a hive of activity. Here Anuushya Sathisraja gets their views
View(s):
The Cost of Living issues seem to have been laid to rest for the time being with the approach of the Sinhala-Tamil New Year as shoppers were seen rushing in and out of shopping complexes and haggling with pavement vendors in Colombo as well as in outstations this week.
Vendors shouting themselves hoarse advertise their wares and bustling shoppers look for the best bargain. Shoppers this year were more aggressive in hunting for bargains than they were last year — a clear sign that spiraling prices have hit pockets.
However the scorching heat beating down on Colombo appears to be having an imapct with stalls selling greeting cards and fireworks, a common sight at Avurudu are yet to spring up.
The Sunday Times spoke to some shoppers and traders to get their views on the festive season this year compared to last year.
There were mixed reactions with some saying things were better while others said people were being more cautious when parting with their money.  

M. Ramya, a housewife from Vavuniya said that the choice and variety of clothes was much wider than in previous years, but was costlier too. "I'm happy to come to Colombo to purchase clothes, with transport facilities easily accessible unlike before but it is really hard to do shopping under the hot sun," she said.
A. Gamage, a government sector worker from Negombo said the prices of items were too high to buy gifts for family members with the salary he earned. "People are facing hard times these days. There were more people buying things last year during this season," he said.
"Earlier a belt was Rs.450 now it is Rs.600, a shirt that was Rs.750 now sells at Rs.1250 or more now and a trouser that was around Rs.850- Rs 900 now goes at Rs. 1400" he complained. "They increase everything but the salary of an individual".
Prices of food items such as meat, fish, flour and eggs had also increased over the past few months consumers interviewed by the Sunday Times commented.
R.D.S Thilanka (40) a three-wheeler driver from Homagama said , "We used to have a gathering with relatives and family friends at my place. The children loved this and looked forward to the day. But now we don't celebrate at all because everything is expensive and we can't afford a decent meal for more than five people".
"It is not as profitable as people think to have a metered taxi. We thought during the New Year season the number of customers will increase but it is not so. We hardly get any hires," he said.
Fourty-one-year old Maheshi De Silva, a housewife from Beruwala appeared to be content with pavement shopping as the goods were much cheaper. "You can find a good choice in the pavement stalls. If one wants to celebrate Avurudu one cannot be looking at the quality of the stuff".
She felt the prices of items this year was not as bad as expected when compared to last year. "We can buy enough things for the New Year without much difficulty," she said
Police on alert
Police Spokesperson Ruwan Gunesekara said the Colombo Crime Division will conduct raids to nab robbers during the festive season.
There will be more uniformed police on the streets and large number of traffic police have been tasked with detecting drunk drivers till the end of national holidays.
Officers would be deployed to observe main roads, main cities, and areas near shopping complexes, and railway stations and to lookout for pickpockets on buses.
Pettah is one of the key spots for shopping during the season, with everything a person would need to celebrate the festival on sale here. Though all seems positive for the salesmen, most street vendors contradicted the belief.
Mohammed Siyam (46) a t-shirt seller said that, the t-shirts normally ranged from Rs.550 to Rs.700 but in spite of reducing to Rs.300 this season still the sales were low. He is confident however that things will pickup during the Avurudu week. "The reason there are no crowds is because of the heat even in the evenings".
M.N.S Naushad, a vendor in Pettah for the past 40 years noted a 65 per cent decrease in sales from last year. Naushad said that people who come to buy glassware ended up buying other products because of the increase price.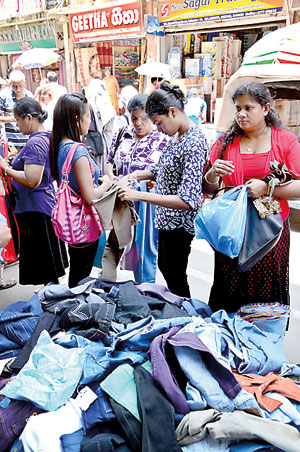 He too believed there will be a rise in the sales because most shop during the Avurudu week itself. He said most traders take out loans to buy their stock and lived on the meager margins "This time New Year sales are not good for us. Our families are affected because this is the month we expect more sales than other months".
Some vendors have given up. K.M. Faumi, (58), a father of two from Maligawatte, is one. "I normally sell electronics, toys and other items during this time. I didn't this time because the sales are not good enough to pay off the loans traders take to purchase goods as well as make a profit," he said
Yet some are staying optimistic. N. Selvakumar (28) a salesman at Ramya Textiles said there was a demand. "Sales will increase closer to Avurudu. I think by the end of the season we will have made fairly good sales. Most of my customers are from out of Colombo. They come here to make bulk purchases for many people."
Bulk buyers come mainly from Jaffna and Mannar and they buy clothes worth hundreds of thousands of rupees.
A. C. Wickramasinghe (75) has been engaged in pottery for the past 45 years. He churns out pots that are used for traditional rituals such as boiling milk with the dawn of the New Year. He said that the profits gained were minimal when compared with the amount incurred in the manufacturing process. "The sales will increase rapidly in the days to come but we cannot increase the prices in an unreasonable manner even if the demand is high," he believed.
Commuters can complain about special Avurudu transport service 
A special bus service that started from April 8 will continue until April 25, a senior official of the Srilanka Transport Board (SLTB) said.
More than 4500 extra buses will be operating from the Central Bus Stand in Pettah, SLTB Deputy General Manager Raja Gunathileka said.
"The special bus services have been launched from the Bastian Mawatha main bus terminal in Colombo from April 8 to April 15 to various destinations. These extra services will continue till after the New Year for the benefit of the people returning to Colombo and other major cities from their villages, from April 15 to 25.
Seat bookings have been cancelled and priority will be given to commuters who arrive first. Extra super luxury buses will be deployed on the Southern Expressway from Kaduwela, Maharagama, Kadawatha and Panadura to reach Galle and Matara. Additional super luxury buses will also be deployed on the Southern Expressway from Bastian Mawatha, Matara, Akuressa, Hakmana and Kataragama.
Mr. Gunathileka said these special bus services will not be allowed to over charge from passengers. Strict action would be taken against bus operators who do not issue tickets as well. Commuters traveling to their destinations using this special bus service could lodge complaints by calling 1955, the SLTB official said.
Meanwhile, Additional Railways General Manager Nalaka Bandara said 48 special trains will be operated from April 10 to 19.
Rasiah Thambinathan a textile trader from Jaffna said sales were poor because vendors from other parts of the country were travelling to the peninsula to carry out Avurudu business.