Dengue sites need to be cleared with 'military precision'
By Anushiya Sathisraja
View(s):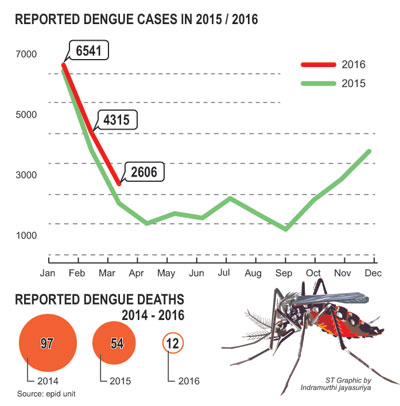 Official lethargy and public indifference are the two major obstacles in the way of checking the spread of dengue fever around the country, health officials say as dengue continues to rise with 12 deaths reported so far from the disease with 13,639 dengue cases reported in the past four months.
In the first days of April alone, 177 dengue cases have been reported.
Colombo reported with the highest number of cases since January (4,687), second highest was Gampaha with 1,666, followed by Jaffna (1,093), Kalutara (811) and Kandy (622). Kilinochchi reported the lowest number of recorded cases recorded at 33, the National Dengue Control Unit (NDCU) said.
Health authorities have identified 170,000 possible mosquito breeding sites and have filed legal action against 1,600 individuals over breeding grounds detected in their premises, the Colombo Municipal Council (CMC) said.
"We found 105 schools, 30 educational institutions, 93 public places, 114 government institutions, 434 private institutions, 90 religious places, 159 construction sites and 73 factories with dengue mosquito larvae during the National Mosquito Control Week which concluded early this week," the CMC's Chief Medical Officer, Dr. Ruwan Wijeyamuni, said.
The inspecting teams had inspected 496,000 premises countrywide during the seven-day programme, he added.
Each and every dengue breeding place in homes and public areas needs to be searched and destroyed with military precision, and the effort should be sustained not only during the rains when the virus comes out in full force but throughout the year, a Health Ministry source said.
Dr. Wijeyamuni said 120 court cases had been filed against people who had mosquito breeding places in their properties. Red notices had been issued to owners of more than 25, 000 premises and re-visits were made to those premises to check on whether they had been cleaned.
"Our strategy is to concentrate and mobilise our resources in high-risk areas where a large number of cases are reported, such as Modera, Mattakuliya, Fort, Grandpass, Cinnamon Gardens, Wellawatte and Kirula. We are concentrating on high-density population areas where in one house eight to ten people live, low and middle-income families and high-rise buildings", he said.
"We have stopped open-air fogging and started indoor air fogging which showed best results. Meanwhile we are using residual spraying, called ICON, in low and middle-income households," Dr. Wijeyamuni said. With ICON, the strongly scented spray adheres to the walls and kills mosquitoes without affecting human health.
The mosquito breeding period is highest in the rainy months from April to September. If there is a case of dengue fever in one house, the whole neighbourhood is at risk because mosquitoes can travel distances of more than 500m.
Compared to the year of 2014- 26 per cent of dengue cases have reduced in 2015 and we tend to reduce another 25 per cent in this year, Dr. Wijeyamuni added.
According to a recent survey carried out by Ministry of Health, nearly 39 per cent of mosquitoes breed in discarded containers. According to the survey nearly 50 percent of the dengue cases were due to infections from mosquitoes breeding in garbage dumped on the streets.
A discarded tyre, a yoghurt cup thrown into a backyard, a sili-sili bag in a heap of uncollected rubbish by the roadside that might contain just a drop of water are all open invitations to the dengue mosquito to lay its eggs, Dr. Preshila Samaraweera, Chief Epidemiologist in Ministry of Health, said.
"We observed that the numbers have increased and this is a big worry," she said.
She said they also observed a lack of public interest in keeping household premises clean. Dr. Samaraweera said the public alone cannot be faulted. "There is no proper garbage collection system and this is posing a huge problem. There should be a sustainable programme," she said.
"Lack of attention by people in cleaning dengue breeding sites and the failure of local authorities to carry out their duties are the main contributory factors for the increasing trend in dengue," she stressed.
If the garbage is collected early the number of dengue cases can be reduced by nearly 50 per cent," Dr. Samaraweera said.
Dr. S. Gamage, the Director of Health for Kandy district, said most of the dengue cases in the district have been reported from the Akurana area, where water is in short supply and house occupants are forced to collect water in buckets. "Even if the water buckets are emptied, the infected mosquito eggs can survive for up to six months without water," he said.
Dr. Gamage said the Kandy Municipal Council faces the problem of hundreds of visitors coming to the city every day and leave behind a mass of empty king coconut shells, yoghurt and ice-cream cups and other plastic receptacles, all ideal containers for stagnant water.
A source in the Central Environment Authority (CEA) said directives are being sent to all local authorities to focus on waste management in the prevention of dengue.
"When the notices are issued, 80 per cent of the people respond and clean their premises immediately but after a few weeks, the situation deteriorates," the source said, adding that clean-ups should be carried out every week.
It was because dengue prevention and control needs a multi-ministry crackdown that the Presidential Task Force was set up in May to delegate responsibilities at national, provincial, district and divisional, the source said.