Wedding planning checklist
By Vinusha Paulraj
Ten years into her wedding planning career, Priyanka Emerson put together the ultimate guide for couples
View(s):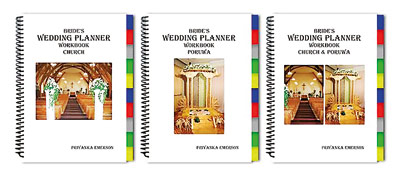 Though nuptials have become a profitable business for those in the wedding market, ten years into her wedding planning career, Priyanka Emerson doesn't see her services as purely entrepreneurial.
Even when a busy bride calls to relinquish complete control over preparations to Priyanka, her advice has remained constant. "It's nice to get involved" in the process she tells them.
With the currently popular "DIY bride" in mind, her innovation is a wedding planning binder. Launched last September, it has colour-coded tabs, with space for personalisation which open-out into extensive lists. She calls this ultimate start-to-finish guide "The wedding planning checklist."
"There are a number of other check-lists you can download off the internet," but none that address the unique needs of a Sri Lankan ceremony. For this reason she has three books, a wedding planning checklist for church weddings, Poruwa rituals and a combination of both.
The amateur organiser plans one year before the set date, and her methodical approach includes questions of who they need to hire, when this needs to be done and more specifically topics of discussion at each consultation.
The task isn't made out to be a daunting one, as her work provides a gradual system, from budget to table allocations for guests.We're asked to think of it as a stand-in wedding planner, "You don't need anything more than the book" to pull-off a memorable event.
As Priyanka takes us through the pages of lists and dotted lines neatly allotted for each category, we realise the binder is of dual purpose.
A dizzyingly complex visit to the florist for instance is largely simplified by the check-list which provides for any surface in need of floral coverage. Avoiding last-minute frantic calls to cover gaps in the negotiations upon finding a few flower-less tables, or wick-less lamps, the lists also serve as a 'how-to' manual for a seamless wedding.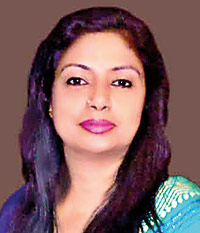 Some of these pages, unsurprisingly, are employed by the seasoned master planner herself, who says "I'm a very organised person." It was upon sharing her personal check-lists with a few clients and other brides visiting "bridal shows" that the need for her work became apparent. "Some of them even asked if they could buy it immediately," she smiles.
It took some work however for the book manifest, there were some "tricky parts" she laughs. Overseeing "the choir and organist for a church function, or the Ashtaka retinue for the poruwa" among numerous other tasks is elementary for those with years of experience.
Each responsibility is broken-down so those with no previous experience can see to tasks, and go back to enjoying the event in their capacity as guests.
Priyanka has had "a lot of calls" since the book was launched. Many have undertaken the planning with confidence, she shares, inviting her on board only in the final stages, as co-ordinator.
Encouraged by the increasing number of couples invested in their weddings more than just monetarily, she says it's no longer about how much you spend on the occasion, rather how it went and "if the bride and groom are happy."
Priyanka Emerson's Books – the Bride's Wedding Planner Workbooks are available at VijithaYapa and Sarasavi book shops. You could also find them online at www.takas.lk