"Is being a daughter such a crime?"
View(s):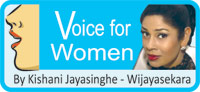 "Is being a daughter such a crime?" the actress called out to the audience….
I was at a theatre in Colombo, watching an award winning all-women production on International Women's Day. It was a brilliant and poignant performance that incorporated many of the issues we face, particularly as women of the South Asian region.
I was riveted to my seat and her question made me sit up and take notice. Here I was, sitting amongst some of the most fierce, finest and accomplished, at a cultural event to celebrate women and all their many gifts and this one phrase set off a multitude of thoughts racing through my mind.
In most civilised societies, women are respected for their ability to multitask under tremendous pressure. To play the most demanding and pivotal role of any drama: to be the best One Woman Show – every single day.
Women are supposed to be the respectful daughter; dignified wife; loving mother; challenging sister; gourmet chef of limitless recipes to suit every age group and palate; seamstress; chauffeur; first aid nurse; handicraft expert; madam green fingers and housekeeper extraordinaire, all the while, being career woman of the year.
And countless women do it. Day in and day out. With little thanks and often no recognition of this superhuman effort. There is no time to feel poorly or under the weather and heaven forbid should she ever get ill…! And yet in many cultures, despite these inherent talents and this extraordinary combination of skill, energy and strength, a daughter is still not the child of choice.
In many cultures – particularly Asian ones – having sons is considered the greatest reward. The highest blessing: He is the carrier of the family name; the strength of any household; the breadwinner of the family. But in reality roles have started merging. The lines that were firmly etched in stone are now starting to blur and lose focus under the constant pressure of women's empowerment and development: Daughters can and do choose to keep their own family names; they are often mentally stronger than their male counterparts; and in many instances have lucrative remuneration packages which ensures financial independence.
So what then creates this great divide? Is being born an Asian woman, fundamental to the manner in which we interpret the role we play in our daily lives? Does it shape our journey in a specific manner? Do we mould ourselves according to the expectations of the sometimes heavily male-dominant societies that we live in? I am inclined to say yes, even though I shudder at the thought, that this need to be all things to all people in our lives, seems so…natural.
If we are this way simply because we are born with a multitude of abilities, hone them, and choose to encompass all these different roles, then that is wonderful. But if we strive to enhance these qualities simply because it is the expectation of the more dominant part of our society, then that is a worry. Were we given these talents and abilities just so that we can serve others for the sake of it, or because we can use these inherent abilities to positively influence our families, friends and neighbours, make daily life more efficient, and in general help to shape a more benevolent society?
Is it an issue that needs to be addressed? Is it a matter that points directly to the soft and yet steely nature of a mother who is also the cornerstone of most households? An impression one associates with the matriarch of the family that affects a child's life from the moment he is old enough to notice and leaves an impression that lingers long after the boy has grown into a man? I believe changing a mindset is a lengthy process, but one that can begin with simple gestures. The key to unlocking this mystery must surely be an awareness instilled in our young at an early age – particularly in our sons – that a woman is to be challenged but also cherished.
Respected as an individual and praised for her intellect and abilities, as much as for her attributes of beauty.
Baby steps which in time become part of one's natural gait and inherent demeanour. For this combined with the memories of the most inspiring woman in their lives – usually their own mother – is sure to create an indestructible mould. If men are happy and secure in their own lives and can celebrate the success and strength of women in it, then automatically, strong, capable and multi-tasking women–in this case particularly daughters – are seen as an asset and are appreciated.
Whilst I am happy to have a specific occasion to celebrate women, I yearn for the time when every day is women's day. A time when we do not need one assigned occasion to celebrate the daughters who contribute to everyday life in the way that only we can. When this time comes and we recognise it as a collective society, then we are that much closer to calling ourselves socially evolved.
"Is being a daughter such a crime" the actress called out to the audience…a resounding NO is the answer. A daughter is a miracle. A blessing with no equal. The only crime is that there is a need to ask the question at all.
All comments, suggestions and contributions are most welcome. Confidentiality guaranteed.
Please email: KJWVoiceforWomen@gmail.com