Lankan hoppers selling like hotcakes in London
Getting a taste for local cuisine during visits here to see her uncle, Emily Dobbs' 'Weligama' pop-up hopper stall is proving to be a great hit. Here in Sri Lanka, she talks to Adilah Ismail
View(s):
There's a 'W' tattooed on Emily Dobbs' wrist – a reminder of the culinary adventure she has undertaken, a perpetual post-it note of her dream inked on her skin. The founder of 'Weligama'(Emily's hopper pop-up in London, not the Sri Lankan town its toponym is derived from), is still a bit bemused by the success of the modest hopper pop-up stall she began at a weekly food market in London. This surprise is tempered with an entrepreneurial keenness to push her brand 'Weligama'and the limits of Sri Lankan gastronomy while offering her own reinterpretation of Lankan cuisine. The success of 'Weligama' is part of a growing interest in Sri Lankan food in London and has also brought about a book deal which Emily is currently engaged in research for.
Her initiation into Sri Lankan food came as a result of frequent vacations to Sri Lanka to visit her uncle Geoffrey Dobbs. Hailing from a background in art and design, Emily began cooking as a way of earning money and travelling – one of her first jobs was cooking eggs, grits and gravy at a Dude Ranch in America. Her restaurant experience was guided by a simple rule of thumb – she applied to every restaurant she liked eating in and worked there, picking up crumbs of culinary knowledge and skills from different places.
Emily's hopper pop-up stall in London was an idea that had been fermenting at the back of her mind for years and finally took shape last year. She purchased all the Sri Lankan cook books she could get her hands on and began teaching herself how to make Sri Lankan food. During this period of trial and error, Peter Kuruvita's cook book in particular, reigned supreme in Emily's kitchen as she cooked her way through the entire book.
Weligama first dished out its hoppers in May 2015 at London's Druid Street Market, a food market in Bermondsey serving up innovative products, fresh produce and street food. Its hopper's uniqueness lay in its aesthetic appeal (Emily's art background is evidenced in her plating) and combination of fresh produce and flavours. The final recipe will be revealed in her cook book and was a year-long testing and re-testing of multiple hopper recipes. Experiments in fresh yeast, dried yeast, white and red rice flour and even beer and soda water were conducted to attain the elusive recipe.
Priced at £6 and upwards, the egg hopper is used as a ready-made batter bowl into which portions of pumpkin curry, dhal and spinach or kale thoran are spooned atop the egg. Accompaniments for the hoppers include seenisambol, lunimiris, pol sambol or kiri hodi. For a more acidic punch, homemade lemon pickles, mango chutney, date and tamarind chutney, pineapple pickle and brinjal pickles are also on offer. Final flourishes for Weligama's savoury hopper often include a sprinkling of pomegranate seeds for colour, sweetness and crunch, a handful of fresh coriander leaves and a wedge of lime, making it a complete meal. Sweet offerings on Weligama's menu last year comprised milk hoppers with jaggery and butter (£4.50) as well as love cake and curd. Additions such as pork curry and kola kenda were also occasionally added into the weekly menu and in keeping with seasonal produce.
Emily's re-imagining of the hopper as an all-in-one snack and street food rather than something which warrants a sit-down meal piqued a renewed interest in the hopper. While similar to its Indian cousin, the appam, the Sri Lankan hopper has a crunch which defies the classification of a pancake and there was a natural tendency to find the closest western culinary parallel to describe it. Some referred to it as the Sri Lankan version of an 'egg in the hole' while most equated it to a crepe, pancake or a taco. As a response to numerous questions about what a hopper is, Emily propped up a blackboard in front of the Weligama stall with a primer on hoppers for the culinary curious. Weligama's name was derived from the Sri Lankan town nestled near the southern tip of the country.Why Weligama? Well, Colombo was too obvious, Galle didn't have the same ring to it and Taprobane too personal because of her time spent at Taprobane Island off Weligama Bay. Weligama had friendly, welcoming connotations, smiles Emily.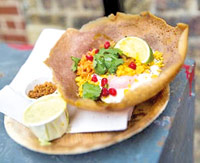 Currently in Sri Lanka and based in Galle with her uncle, Emily has been researching and exploring the island's age-old recipes and agricultural offerings.We meet in Colombo, on one of those rare rainy days which provide welcome respite during what has been an exceptionally humid month. Emily's pocket-sized notebook bound in red handloom cloth is slowly filling up with food ideas. Unexpected food marriages and ideas for new dishes are scrawled in her loping writing and dance around its pages. The accumulations of her recent food explorations will make its way into Weligama's menu in spring and her cookbook which will be published early next year. As a part of her immersion into Sri Lankan food, she has been busy going back to the roots of production, observing how cinnamon is produced, tea plucked and graded and rice harvested.
There's also an interest in pushing local ingredients beyond the boundaries they're  traditionally used for – woodapple, maldivefish, curry leaves, jakfruit, papaya, buffalo curd (the clay pots they are sold in are a unique vessel in itself), lotus roots, beetroot all afford a world of untapped possibilities.The book, Emily explains will be part-cook book and part-travel book and it is expected that the playfulness in Emily's approach to Sri Lankan cuisine will spill over into its pages in order to initiate people into Sri Lankan food.
There's a tenuous line between cultural appreciation and cultural appropriation when it comes to culinary patrimony, food histories and ownership and this is an ongoing debate which Weligama has also been drawn into in relation to Sri Lanka food. Emily notes that her food is her own personal interpretation of the cuisine and is an ongoing endeavour to bring a taste of Sri Lankan flavours to the English palate. Reflecting on some of the criticism she's received she says, "I'm not trying to say that my way of cooking Sri Lankan food is better at all. I'm just having fun and experimenting and it just so happens that people like it.I just really love the country, that's it really. There's not really a massive story to that."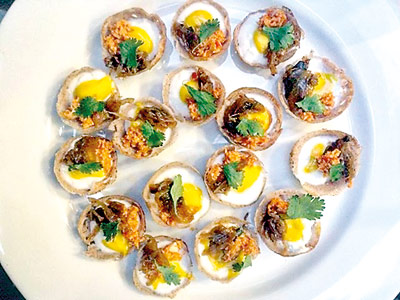 With a smattering of Sri Lankan restaurants over the years, hoppers and Sri Lankan food aren't a novelty in London. There is however, a Sri Lankan food renaissance which has been simmering over the past few months. Weligama is one of the ripples in this food wave and the advent of Hoppers London last year, now hailed as one of the top restaurants in the city, is another. The Soho based 'Hoppers London' is owned by the Sethis – a family of restaurateurs responsible for some of London's award-winning restaurants– and draws heavily from Sri Lankan and Tamil Nadu cuisine.
The no-reservations restaurant has people queuing up to four hours to sample string hoppers, kotthu, dosai, arrack and of course, its namesake – hoppers. The restaurant takes the Sri Lankan short eats – ubiquitous in Sri Lanka but unique in other parts of the world – and offers lively twists to the familiar, featuring bites such as mutton rolls, goat roti, hot butter devilled shrimp and idli. Its recent stamp of approval from noted food critic, Jay Rayner, was a testament to its success in maintaining a balancing act between taste and finesse.
For Shahili Gomes, a Sri Lankan living in London who's passionate about food, Hoppers London was a welcome addition to London's thriving food scene "Hoppers London have created a trendy atmosphere," she notes "It's not just about the food. It's the fact that it's based in Soho with great interiors etc. The guys behind Hoppers London have loads of experience in the London food scene and I am glad they have made Sri Lankan food trendy."
In Sri Lanka too, it's inspiring to see chefs and restaurants up the ante for Sri Lankan food and draw inspiration from the past and adapt for the palates of the future – whether it is kokis dipped in chocolate, pint-sized pittu as canapes or Sri Lankanfood in bento boxes. While gastronomy is faddish and the culinary world is beset by food trends there's an enthusiastic optimism that Sri Lankan cuisine can withstand food fads and secure a firmer place in world cuisine – its recent success in London is definitely a glimpse of this.