Appreciations
View(s):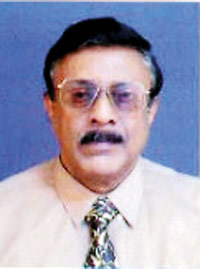 P.P. Jayasinghe
Lasting memories of his cheerful voice and laughter will linger with us
Pinshree Padmalal Jayasinghe, of John Keells Housing Scheme, Piliyandala, passed away after a brief but chronic illness on February 5, 2015. He was born on August 6, 1947 as the eldest child of G.W. Jayasinghe and Padma Jayasinghe of Poramba, Ambalangoda with siblings Ananda, Champika and Nilmini. He was married to Subadra Karunanayake formerly a scientist at ITI who later served as a UNIDO Consultant.
Known to many friends as Princely or Princy or Prince, he was educated at Dharmasoka College, Ambalangoda, where he excelled in studies as well as sports. Being a keen athlete he became the Games Captain and won the Best Athlete trophy during his final year in the College.
He was unlucky not to have entered the University having missed out by a few marks, but joined the Rubber Research Institute (RRI), Agalawatta, as a Technical Assistant of the Rubber Chemistry and Technology Department. He was the first officer of the Rubber Research Institute of Sri Lanka to obtain a Licentiate of the then Institute of Rubber Industries (LIRI/UK) in the early 1970s, as a young Technical Assistant. During his tenure at RRI he contributed to many research projects leading to the development of a number of rubber-based innovations including the use of rubber spray-coating for coast conservation and irrigation canal bund conservation.
Being publicity-shy, he never even informed his family that he was a recipient of a Gold Medal awarded by the Plastics and Rubber Institute of Sri Lanka. In 1979 he was awarded a scholarship to the Rubber Research Institute, Malaysia (RRIM). Dr. Shekharan Nayar, Head of Rubber Technical Centre, Sungaibuloh, RRIM substation, Malaysia had offered him employment at RRIM considering his knowledge of Rubber Technology and research skills. At the latter stages of his career, he was unhappy as his capabilities and skills in Rubber Technology were not recognised to the fullest.
He retired from RRI in 2007 as a Research Officer of the Adaptive Research Department. His writing skills in English were par excellence and even after retirement he won an award in an open competition for writing organized by the Inventor Commission of Sri Lanka.
He was an ardent naturalist and keen observer of nature. A keen bird watching enthusiast and member of the Sri Lanka Ornithological Society, his homestead was a haven to many birds, the verandah being spread with rice grains always.
During his retirement he travelled abroad widely accompanying his wife Subadra during numerous UNIDO missions in Pakistan, India, Maldives and Laos PDR. Both of them spent a modest life in a rural setting.
He had a kind, cheerful and friendly personality. He had assisted the local Buddhist temple as well as many other temples lavishly when the need arose.The lasting memories of his cheerful voice and laughter will always linger with Subadra, my sisters, relations and friends forever.
We wish that you will be born again among us in your sojourn in sansara so that we can rekindle the love, cheer and joy with you until you reach the supreme bliss of Nibbana.
-Ananda Jayasinghe
---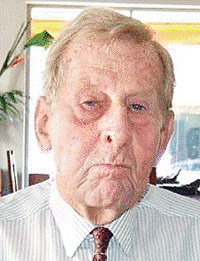 Prof. Russell Bowden
Adieu to a Cybrarian
An European man
Came to our land
A book in a hand
With knowledge in his mind
Information profession
Development was his motivation
With a smile or a frown
Appreciated, criticized any opinion
No more he is to the world
But the great life he led
An inspiration to a librarian
Rest in Peace Professor Bowden!
-Kumari Wickramasinghe
---
DAVID RATNADASON  
He was a symbol of humility and simplicity
Though sad, I consider it a privilege to write this appreciation on late David Ratnadason, better known as "Mr. David" who died on March 1, 2016.
I have known David ever since he was a student and boarded at Gallebodde Estate, where his brother-in-law was the senior clerk in the late fifties and I was a junior in the same office.
I lost track of him since then until I settled down at Kotagala upon retirement in 1998. David too chose to settle down at Kotagala and lived a few hundred yards away from my residence.
David was born on June 15, 1945 and at the time of his death he was 71 years old. He had his early education at Nawalapitiya and found his initial employment on Dartry Estate, Gampola as a junior clerk. He later worked on Monte Cristo, Yuillefield, Ythanside and Mount Vernon Estate, where he retired as chief clerk in 1999.
He married Christina Alfred John. He loved his children and grandchildren so much that his house at Kotagala was a common living place for them all, a rare thing in today's life style. His wife Christina was a wonderful hostess who never allowed visitors to leave without a meal or a cup of tea.
He was a wonderful father, husband, grandfather and an efficient and well respected Chief Clerk. Gentle and soft spoken, he was a symbol of humility and simplicity. However, he was a strict disciplinarian and commanded the respect of his co staff, workers and employers.
- D.J. Williams
---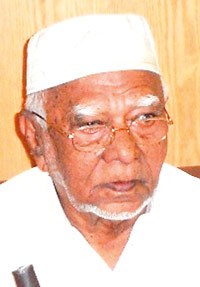 A. R. M. Zanoosey
He was a mentor and role model to the family and area residents
My dad Al Haj. A. R. M. Zanoosey passed away peacefully at the age of 93 years on February 24.
He hailed from a middle class Muslim family and had his education at former Hameedia College, Colombo 12 (now Hameed Al Husseinee College). He had shown his scholarly talents even at a young age and had been an active member of the scout movement.
He had a sharp memory of yesteryear. Whenever I visited him, he loved to reminisce about his past. He would often recall his boy scout activities. His narration about his difficult times during Word War 11 kept us spellbound. During this period, there had been an impending air raid threat by the Japanese. My dad had voluntarily joined the Air Raid Police. His role, among other things had been to take quick action to convince people to take cover against any possible air raid injury and damage when they heard the air raid siren. These stories would have been the impetus which made me join the security forces.
After the war, he joined the staff of Walker & Sons, where he worked until retirement. After retirement, following the footsteps of his father, a gem merchant (late Abdul Rahim nicknamed "Thanni Koshi") and his cousin who was also a renowned gem businessman (late Lord Mowjood), he took to the gem business. My father was honest and humble in his dealings and was not too interested in making big profits. But he was bold and worked with determination to achieve his desired goals.
His wealth of knowledge and experience in a multitude of disciplines made him a mentor and role model to all our family members and to very many people of the area. He was a devout Muslim and had a knack for social work and the habit of caring and sharing for others. He always respected people from all walks of life irrespective of their caste, creed and religion. He became a popular figure in the Grandpass area and for a short period, he worked as a member of the Quazi court in Grandpass. People visited him seeking help and advice on various matters and he spared no effort to resolve their problems with foresight, tact and knowledge. At times he fearlessly stood for the just causes of the people.
He encouraged us to do our best where education was concerned and was proud when I entered university. I still remember, during my primary school days how he had helped me with my school work after his office work every evening. As an angler, I learnt the basics of fishing from him during my childhood on a rainy day near a fresh water fish pond in Hunupitiya in Wattala. I will always remember the sacrifices he made to keep us happy!
He was very fond of his grandchildren and would spend hours and hours amusing them.
With the passage of time, he took to religious activities. He visited the Muhyaddheen Jummah Masjid mosque at Grandpass almost daily and took part in religious activities. As the trustee of this mosque, he was concerned about the renovation and took great interest and painstaking effort to renovate and uplift it.
Gradually over the years he became feeble and weak. He was not very happy with being confined to home. Despite his sickness, his enthusiasm made him occasionally visit this mosque. On a decision taken by the mosque trustee board, he was appointed as the Senior Advisor in recognition of his honorary service. Muslims in the area would speak volumes in testimony of his untiring service.
His passing away serves as a stark reminder that we are all in this world for a very limited time. But even with immense grief and sorrow, memories of him will remain with us forever.
Whilst paying my humble tribute to my loving dad, I pray Almighty Allah that he may grant him Jennath -ul-Firodouze!
- Brigadier (Ret) M. Z. Ishrath
---
Ansar Jabir
Thank you for all the valuable lessons about life
It has been one year since your death but time seems to have made no difference to the pain of your absence. Memories of you are still fresh in our minds and continue to be played over and over like a record in perpetual playback. We revisit that fateful day and wonder what could have been done to change the outcome. We unwillingly have to succumb to the divine plan every time.
You taught us countless things about life. To be generous to those less well off, to be upright in our dealings with our fellow human beings, to live within our means and several more things too many to enumerate here. You proved to us that formal education does not necessarily correlate with intelligence or success. You enabled us to pursue our goals in life and tempered our dreams with a dose of pragmatic realism that only a father and husband could apply.
You've left people with memories of your tact, generosity, business acumen and your down to earth attitude. You mixed with people at every level of society from presidents, diplomats and monarchs of nations to those who came home yearly to ask for some sort of monetary aid. What made you stand out was your acumen as an expert gem merchant. This expertise led you to the unique distinction of being the one to provide the beautiful blue sapphire in Princess Diana's engagement ring which Kate Middleton now wears. It makes us immensely proud to be your sons when people mention these traits of yours and inspires us to be sons that you would have been proud of.
Despite the difficulties entrusted on us by your absence, we try to be thankful to the Almighty. Your passing away is part of His divine plan and an apt lesson for us all.
May Almighty Allah grant him Jennathul Firdous. Ameen.
- Dr. Shehab Jabir and Brothers