Feast your eyes on three distinct styles
By Kaveesha Fernando
Tissa de Alwis the techno phobe, Shehan Madawela the evolving artist and his wife Pinki who believes in the metaphysical, are holding an exhibition
View(s):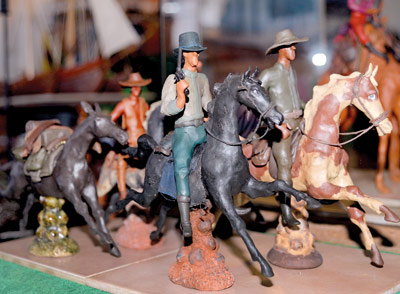 This week's joint exhibition of artists Tissa de Alwis, Shehan Madawela and Pinki Madawela will showcase three very individual and distictive talents.
These three artists have different styles and mediums and venue sponsor Sapumal Foundation promises an exhibition which will be 'unusual, varied and exciting'.
Tissa de Alwis grew up in Galle. His work was chosen for exhibition by the Ceylon Society of Arts in 1963, when he was just seven years old.
He has exhibited his work in many countries such as Japan, Australia, England and the Netherlands. Inspired by comic books which he read as a child, Tissa makes military figures – soldiers, planes and armaments from the 16th century to the present date. He feels that his work is a reaction to technology. Tissa, who dislikes modern technology, cannot be contacted through email, facebook or mobile phone – because he doesn't use any of these! His sentiments toward technology can be seen clearly in his works – which are mostly of soldiers who ride horseback and use rifles. He is a full time artist whose work is available at his studio in Pita Kotte.
Following a move to Australia from Sri Lanka at the age of 20, Shehan Madawela moved to Lesoto (in Southern Africa) and worked in business. When he was 31 years-old he decided to change careers and become an artist. He subsequently spent two years in Kala Bhavana – the famous art faculty of Santiniketan, in India, where he found that his time interacting with lecturers, students and using the facilities provided him ample opportunities to hone his talents. Shehan says he has no distinct style and as a self-taught artist his art evolves with him. This is the first time he is exhibiting an entire body of work in Sri Lanka following a hiatus of around 12 years. His paintings will be in mixed media.
Pinki Kumari Madawela was born in Bihar, which is one of the most flood prone states in India. She feels that the natural disasters which she witnessed growing up have taught her courage – something which has inspired her palette of bright and vivid colours. Following her completion of a Master's in sculpture at Santiniketan, she moved to Karnakata. An artist who doesn't believe in the notion of race or religion, Pinki's subject matter is the many facets of light and its 'mysterious' nature. She is also inspired by the concept of light as a means of glimpsing the metaphysical aspects of life. Her paintings have mostly been done using the tempera wash technique.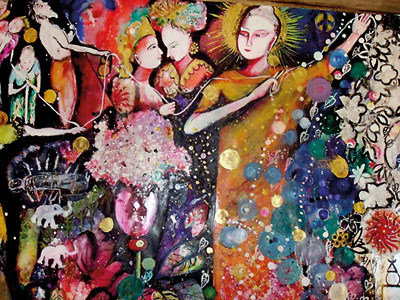 So how did these three artists of such different backgrounds decide to exhibit their work together? Tissa and Shehan knew each other because they were both members of the Lionel Wendt Art Centre Club and when Tissa found out that Shehan was back in Colombo, he asked Shehan to exhibit his work with him. Shehan then asked his wife Pinki to also exhibit her work alongside them. Shehan feels that he and Pinki are artists in their own right and marriage doesn't make them any better or worse artists than they originally were. In fact, this is one of the few times that Shehan and Pinki will be exhibiting their work together.
The exhibition will be held at the Sapumal Foundation premises at Barnes Place, Colombo 7 from March 18 – 22 from 10 a.m. to 6 p.m.