Chained and netted, an exhibition to reflect on
View(s):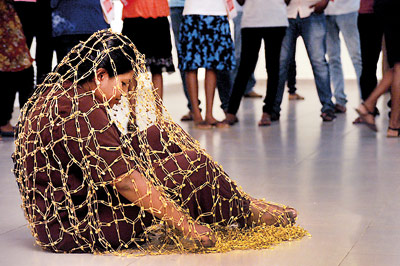 A young woman bound with a heavy chain is a shocking spectacle. But it was an image designed to shock and get the viewer thinking as was the sight of another young woman entangled in a net.
Suanji Bandaranayake- the artist in chains put it simply: Women's freedom is restricted by traditional ideologies in the society I live in…women in chains is about this restriction, suffering and helplessness.
Janani Cooray titled her safety pin net the 'Golden Boundary' – "a part of me, myself".
Titled 'Space' this annual exhibition by 13 women graduates of the University of Visual and Performing Arts (UVPA) at the J.D.A. Perera Gallery on Horton Place, Colombo held to coincide with International Women's Day has become one to watch out for. The exhibition which ended on March 10 featured paintings, sculpture, installations and performance art works by the artists who continue their passion for art while fulfilling other roles as mothers, wives, siblings, teachers, providers etc. With their powerful and resonating images, they gave the viewers plenty to reflect on.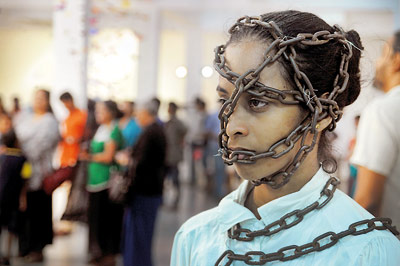 A spiced-up, diversified A&K Literary Festival is back

The simplicity and spice of Annasi and Kadalagotu (A & K) will be back on stage, come May 14 and 15 at the Aesthetic Centre in Colombo 7. Rooted firmly as a trilingual literary festival, and following on the grand success of its premiere last year, the organisers are looking at a diversified and spiced-up two-day version for 2016. Bookshops and food stalls, portrait painters and palm readers, poets and authors in panel discussions, literary lovers attending book launches, all will be a part of this kaleidoscope of English, Sinhalese and Tamil literature.
Schoolchildren will be given centre stage with an English Poetry Competition, Poem of the Year.The aspiring "Poet of the Year" will write a poem on any ONE of the three given topics below (no word limit) and send it to the organisers of the A&K Literary Festival by email or surface mail. The topics are: 1) Peace; 2) Being a Sri Lankan and 3) Kindness.
Ten poems from all entries received will be short-listed and announced on the 14th at the festival. The 10 writers will then be invited on stage to read their poetry. Later in the day, the three winners will be announced. They will receive attractive cash prizes as well as A&K LitFest Awards for the best three poems.
The topics have been carefully selected to encourage the young to express their thoughts and views on matters that are very relevant in the current day and age. This is a chance for the young to be heard.
Peace -that is what we longed for and the writers themselves were born at a time of conflict in the country that now enjoys the blessings of peace.
Being a Sri Lankan,is the removal of divisional labels in young minds. We are ethnically Sinhalese, Tamil, Burgher, Moors, Malays, etc. etc. But the core reality is that we are all Sri Lankans.
Kindness -what wisdom can you find that is greater than kindness?
If you are a student who writes poetry, enter the 'Poem of the Year' contest. School Principals and English Literature teachers are asked to encourage their students to participate.
Entries will close on April 10. Send in your entries to: Nadeera Wijegunawardena at: nadee1989@gmail.com
The Annasi and Kadalagotu Literary Festival has many other attractions – all aimed at encouraging the newcomer to take to the literary stage. Authors who are seeking to launch a book can enter the 'Launch Your Book @ The Annasi and Kadalagotu Festival'programme.  
Contact any one of the below mentioned members for information on the Festival and its programme:
Keith Wijesuriya
Tel. 0777349880
Email :festival@aklitfest.com
Dhananath Fernando
Tel. 0775080256
Email :dhana.fdo@gmail.com
Nadeera Wijegunawardena (for information on the Poetry Competition)
Tel. 0717903708
Email :nadee1989@gmail.com
Chamindra Warusawitharana (for information on book launch registration) Tel. 0777239011
Email :casper.chamindra@gmail.com
A&K Lit Fest Hotline (0)11 2821111 (Weekdays 9.00am – 6.00 pm)
or visit www.aklitfest.com