Villagers demand speedy arrest of alleged rape-murder suspect
View(s):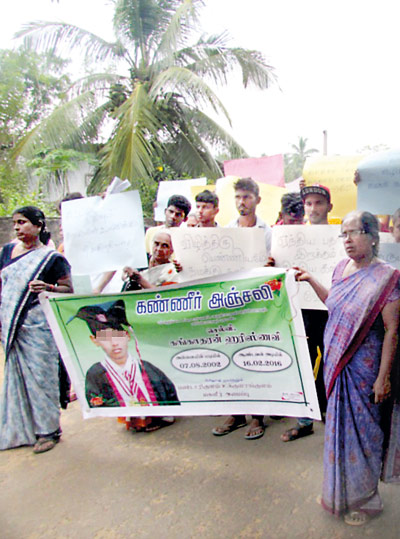 Residents of Ukkulangkulam in the Vavuniya district staged a protest on Friday demanding the arrest of persons responsible for the alleged rape and murder of a 14 year-old schoolgirl, police said.
According to the police report, the girl had been strangled and later hanged from a rafter of the house in an effort to make it appear she had committed suicide.
Coroner Shivanathan Kishore, who visited scene of the incident told the Sunday Times that the body had been taken down by the child's mother -a school teacher- on her return from school.
A report by the Judicial Medical Officer Dr. J.C. Samaraweera revealed that the girl had been raped before she was killed.
According to the police, the student who normally accompanied her brother and younger sister to school had stayed at home and not left for school that day.
Villagers demanded the inquiry be expedited and the suspect or suspects be arrested soon as possible.The funeral was held on Friday.