Another loon balloon to reach Lankan skies
View(s):

The Google Loon Centre and the Information and Communication Technology Agency (ICTA) expect one more Google loon balloon to reach Sri Lanka's stratosphere within the coming week, ICTA Programme Manager Gavashkar Subramanium said.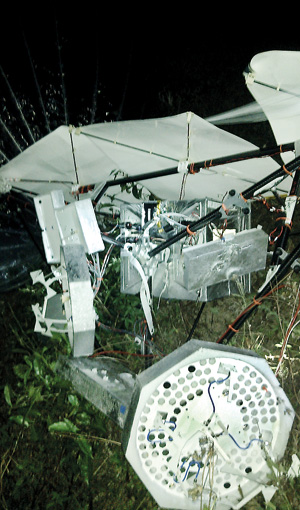 "It is important to acknowledge that Sri Lanka is adjusting to the scope of the loon balloon technology and hence the initial balloons that will be entering our air space may be used as props to test their efficiency," he added.
This is reported to be one of the six balloons that were launched by the Loon Centre USA, used to provide 3G internet facilities to the country under the name 'the loon project'. One of the said balloons successfully landed on a plantation facility in Pupuressa, Gampola on Wednesday as part of the procedural testing mechanism carried out in order to effectively stabilise the coordination between the Google Loon Centre USA and the air traffic controllers in Sri Lanka. Mr. Subramanium said given this was the first loon balloon which entered the atmosphere of Sri Lanka, it was crucial to manage the efficient coordination of the landing procedures; hence this was merely a part of testing the loon balloon technology. The particular balloon will be sent to the Loon Centre for quality checks which may result in its relaunching procedure, he added.
The lifespan of a loon balloon in theory is presumed to be about 180 days, Professor Gihan. N. Wickramanayake of the University of Colombo, said. This however is merely a theoretical figure and would vary based on various factors such as wind consistency and wind speed which may affect its motion and on such occasions the safe landing of the balloon would be carried out. (PG)