Greed and need at heart of Thotalanga evictions
By Anushiya Sathisraja
View(s):
The government tried to explain why it sent in dozers to demolish scores of makeshift homes amid scenes of shrieking women confronting police, explaining most of the residents had other homes.
Almost 350 residents of unauthorised homes built down Ferguson Road, Thotalanga, an area known as Kajima Watte, were evicted by the Urban Development Authority (UDA) this week amidst disputed claims that authorities had given prior notice.
One of those evicted, 29-year-old Inoka Perera described how backhoes and bulldozers had broken through the shanties that contained their belongings, and claimed at least two children had been injured and taken to hospital.
She said her family had previously been evicted from the nearby Henmulla Nawa Niwasa and taken up residence in Kajima Watta.
"We shifted from Henmulla Nawa Niwasa to Kajima Watte because the authorities asked us to," she claimed. "They should have told us not to set ourselves up here. One needs about Rs 75,000 to Rs 80,000 to build a house."
Basir Rajabdeen, 37, a father of four, said the families' belongings had been crushed and buried when the houses were bulldozed.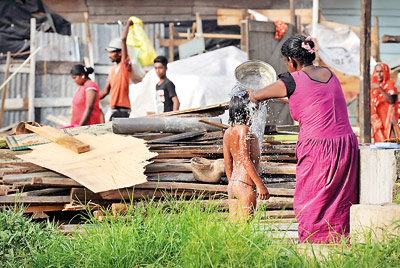 "They demolished all our furniture. We have no way to send our children to school because all their books, clothes and schoolbags were destroyed. We have no money to buy new items," he said.
Mr. Rajabdeen complained that although he had voted for the United National Party no ministers had visited the evicted families.
"I accept that we settled down in this house illegally but we had lived here for two years. The government should give us alternative housing as we are citizens," another resident, Akila Suminda said.
The government said it would continue to provide housing to low-income families but, Secretary to the Ministry of Megapolis and Western Development Nihal Rupasinghe warned, "No-one will be allowed to take government property without authorisation".
There are about 68,000 families lving in unauthorised buildings in Colombo. The State has relocated 5,000 of them so far in new housing complexes.
People who had been given housing, have rented them out and returned to their unauthorised shanties, the government said.
Mr. Rupasinghe warned the government would seize any dwellings that had been rented out in the housing complexes, saying residents had been warned not to do this.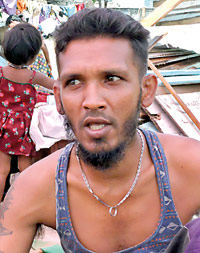 Almost everyone who had been living at Kajima Watte had rented out homes given to them by the government, Brigadier Ranjith Samarasinghe of the UDA pointed out, adding that these people were not eligible for more housing units.
While some had rented out their free homes others had left a couple of family members in the new dwelling and returned to the condemned shanties in the hope of obtaining more housing.
Their friends and relatives had also come to the area, occupying a huge expanse of marshland, Brigadier Samarasinghe said.
Families who had been living in slum homes of more than 700 square feet had been granted two housing units of 550 square feet each.
"We evacuated 280 families from sites in Madampitiya, Borella and Thotalanga and gave them flats, but after the election, due to some political interference, around 70 families in January 2015 came back to their old homes and in December 2015 more families came back to settle illegally. Thus again 280 families came back to the place from where they were before being given housing," he said.
"The UDA has provided 5,000 housing units in seven places: Dematagoda, Wellawatte, Bloemendal, Borella, Madampitiya, Salamulla and Thotalanga."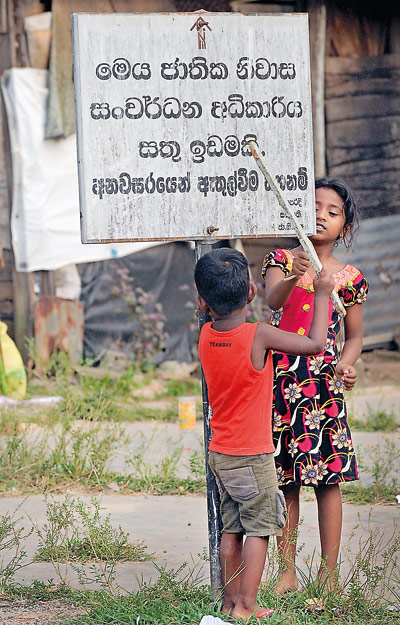 The evicted residents' protests this week in Thotalanga caused long delays for traffic, with one person saying her family missed an international flight due to the holdup.
Commuter Nadeesha Wijeyasooriya, who travels from Kelaniya to Kollupitiya for work, said she had only reached home at 11pm on Tuesday as she had had to get down from her bus and walk for several kilometres.
Defending police action to expedite the evictions, police spokesman SSP Ajith Rohana said, "If we had followed a different method of action, an unfortunate incident would have taken place that would have been worse than the traffic congestion."