Here's the Gazette the Finance Minister doesn't know about
By Chandani Kirinde
View(s):
The Central Bank, through a Gazette notification, appears to have stymied declared efforts by Finance Minister Ravi Karunanayake to invite those abroad to remit money to Sri Lanka, assuring no questions will be asked.
This Gazette extraordinary notification on January 27, 2016 (the date in English is erroneously stated as January 27, 2015 at the top but has the correct dates in Sinhala and Tamil) was published by the Financial Intelligence Unit of the Central Bank.
The Sunday Times has confirmed that the Gazette in question has been issued and it remains on the website of the Government Printer (www.documents.gov.lk).
The notification under Financial Transactions Reporting Act No 6 of 2006, however, bore the date January 27, 2016 and formed the front page lead story in the Sunday Times last week.
The story saw Finance Minister Karunanayake hurriedly summon a news conference last Sunday evening. He accused the Sunday Times of blocking his efforts to bring in much needed foreign exchange to the country.
Waving a copy of the Sunday Times, he declared that no restrictions had been placed on money coming from abroad – a claim which was not made in the news report.
However, as the report disclosed, all those receiving inward remittances would be asked to inform the respective banks how the funds had arrived, if they exceeded Rs. 200,000.
"We cannot allow media freedom to become freedom of the wild ass. We cannot allow such things to be written," declared Minister Karunanayake.
He said that writing such things "when we are struggling to get the economy going is wrong." Most national newspapers, except those state run, ignored his outburst and assertions.
As we revealed last week, the Gazette extraordinary did mention that inward remittance of amounts in foreign currency to the equivalent of Rs. 200,000 would have to be declared.
The move is intended to prevent money laundering and terrorism funding and the regulations do not make any exception to money coming from abroad for other purposes.
After the Sunday Times report appeared, Minister Karunanayake got in touch with Central Bank Governor Arjuna Mahendran.
He had said that he was on a visit to China and was unaware of the notification. Surprisingly, one H. Ameratunga, described as a Director of the Central Bank Financial Intelligence Unit, was also at the news conference.
He said there was no mention in the gazette about inward remittances — a position contradicted by the clauses that have been gazetted.
How did the Government Printer publish a Gazette from the Financial Intelligence Unit, if indeed there was none, remains a puzzling question? The answer should be obvious.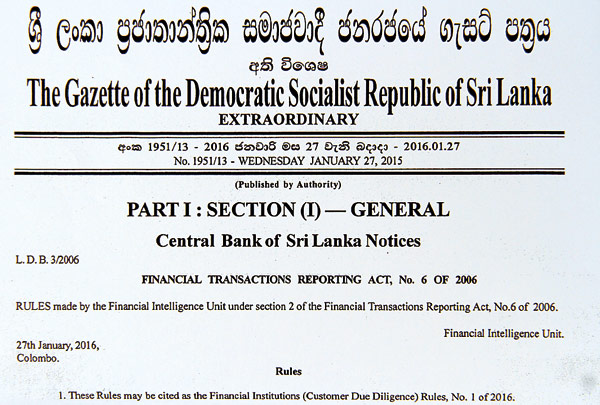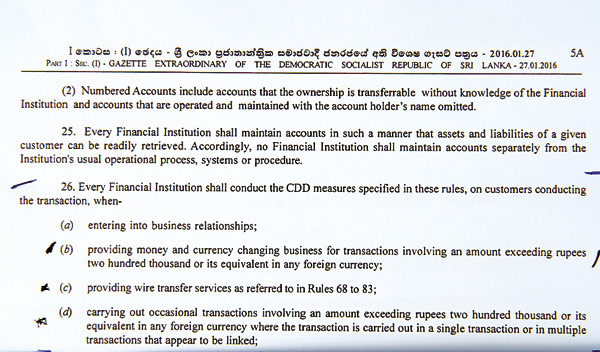 \