Tickets Sold(out)
View(s):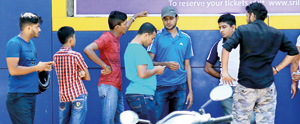 The second T-20 International between Sri Lanka and Pakistan was played at the Premadasa International Cricket Stadium, yesterday. However, Sri Lanka Cricket says all tickets are sold out. Yes, indeed they are being sold right (out)side their premises. Impatient cricket fans gathered at Maitland Place in front of the cricket headquarters queued-up to seek their luck. They were lucky in a way as some unscrupulous person who bought tickets in bulk earlier made a killing right in front of SLC by selling his stock tickets in the black at twice its face value.
When the Sunday Times contacted CEO, SLC Ashley de Silva, he was oblivious of the situation. He said "During the last game there were some reports on tickets being sold in the black, we took prompt action, but, here it is a different situation, till last evening tickets were available at the counter and today there will be limited number of tickets available at the gate. However I would immediately probe into the matter". He promised.
However, once the matter was brought to his notice, the SLC CEO promptly instructed his security manager to probe into the matter and later told the Sunday Times "The security had encountered some suspicious looking people and had chased them away.
(Picture by  Anuradha Bandara)