Double dose of School Tennis?
Issue of National Tennis standard
View(s):
In the study of the national Tennis rankings of a few countries in our Davis-Cup group and in the ones below, a pattern emerges to show that their 'schools Tennis standard' has become the national standard. It is particularly clear in women's Tennis.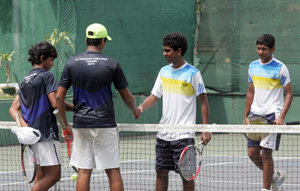 In Sri Lanka, there is a board as one walks in to the Sri Lanka Tennis Association premises, which says 'new entrants should go upstairs for registration. It puzzles one as to who the new entrants are? It refers to beginners and I was wondering what place do they have in a national association's programmes? The association's goal should be tertiary and national team development.
What more, programs for players over the age of 19 to 30, which is the physical prime of a Tennis player, is either a well kept secret or does not exist. We are not the only nation with this folly. Simply said most of the Associations in these categories which I have mentioned above are duplicating a school's Tennis program and nothing else. It is a double dose of school Tennis!Davis Cup and Fed Cup pattern.
Should there not be a difference between the best Tennis player from the schools who are in the teens and those of a national category in their twenties? In the general standard of these two, there is no difference because they are the same players. The best players we had in the Davis-Cup and Fed-Cup this year are products of programs, efforts and finances of parents. I do not know if the national systems which consist of the Association, Sports Ministry, IOC, ITF and what more have any contribution in elite player development. I am not aware of the assistance to parents or players in research, liaison, planning and soft support when they are 18 years of age.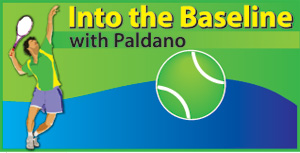 Research shows that Tennis is a late specialisation sport. This means that schools cannot be the institution that finishes a player's development to full maturity. Tertiary development is the responsibility of national bodies. What I am referring to is not to reach the standard of Tennis in the top two hundred of the world ranking but at least to appear around the 1000 mark. Absence of our players here shows the incompetence of player development. This is what makes our Davis-Cup performance to be a 'snake and ladder act' between division two and four. It is worst in the Fed-Cup where we are always at the starting blocks.
Sporting-skills and  sports-intelligence
Schools sport is never about tertiary development for national and international competition in Tennis or for that matter any other sport. This cannot be a school venture. A School's primary objective in sport is to induce aspects equivalent to that of 'literacy' in education which can be termed as competencies in sporting-skills. These aspects are strong reaction, body coordination, sense of timing and early elements of engagement to sustaining tactics and sports-intelligence to overcome the challenge.
Our schools seem to achieve this in a few sports and Cricket can be cited as one such sport. In sports such as Tennis, school facilities and participatory costs will be beyond the financial muscle of most schools. It is in this area the national associations should play their role to provide the vital tertiary development. It is the missing link in Tennis. Often past players ask how do the Association and other bodies created for sports sustain Tennis for Davis-Cup and Fed-Cup players. The answer is, we do not sustain it. The thought of Davis-Cup appears few weeks before the tie and forgotten the day after the tie.
Image of the nation and Tennis
We even bring out the loud 'non' musical band which has become a standard disturbing feature at Davis-Cup in the recent past. The band goes against the genre of Tennis of being a game of concentration. Some of the past players would have reacted violently to such things. Those of us who know late Bernard Pinto will also know how he would have reacted. I feel that in the recent tie, Dinesh Kanthan was disturbed by it in the doubles and we lost. Excess cheering and street bands are no substitute to refined skills. [That is why Wimbledon is played without a street band] Such inclusions are an insult to our sports intelligence and unsporting gestures towards visiting players. Visitors will not speak well of our sportsmanship. One past players said that the loud band will be there till one player is in the team?
Absence of total development
By some accident or by design, schools Tennis is been duplicated by the national systems and mushroom academies. Profit being the motive, this finds more energy than high performance development. What in effect is a 'double dose of school Tennis' administered either knowingly or ignorantly.
Any player wanting to get into tournaments locally or internationally will have to get the 'game-making' routines at least 10 times a week over a long period of time. When courts are used for financially lucrative ventures with up to 12 players on a court at a time, game-making skills cannot be achieved. Due to this I find our players the most under-developed, to win matches in the international arenas. They lack mental maturity and tactical toughness.
This is getting deteriorated further by the rate at which we are losing tennis courts in the island. The 50's and 60's had tennis courts all over the island. The preferred sport of government servants and professionals was Tennis. In the propagation of Tennis as a sport, schools should give the introduction followed by participatory aspects in clubs. This maturity is the gateway to competitions locally and internationally. All we have now is a 'double dose' of schools Tennis with no way forward!
George Paldano, former international player;
Accredited Coach of Germany, National coach, Davis Cup and Federation Cup Coach; ITF and USPTR; –gptennis.ceylon@gmail.com-