Former Ananda ruggerite "Wasthu" – is no more
Appreciation
View(s):
The Anandian rugby team maintained a reputation as one of the leading teams playing in the schools "A" division tournament during the years from 2006 to 2009. "Wasthu" was one of the most versatile and outstanding members of the side. He played at No. 8 position and was the architect of many victories achieved by the team. As a courageous young player he showed glimpses of his talent from his early days in school. "Wasthu", was the Vice Captain of the team in 2009 and awarded school colours for his strong play and contribution to the team's success. He was a member of the Ananda sevens team that became inter-school champions.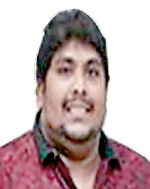 Duminda Lakmal Dias Gunesekera (affectionately known amongst friends and relatives as "Wasthu") was born on January 18, 1990, the youngest son of the late Mr. Harischandra Dias Gunesekara and Mrs. Gunesekera, residents of Temple Road, Maradana. He had a twin elder brothers and a sister.
In 2012-2013 he was Assistant Coach of the Ananda rugby team in which capacity he rendered service with utmost loyalty to the complete satisfaction of all. "Wasthu" death was an unexpected shock. He had been suffering from stomach pains of which he did not take serious notice. On 17th July, the pain became severe and he was admitted to a private hospital in Colombo for treatment. He passed away on 18th July due to septicemia causing multi-organ failure.
His funeral took place on July 22nd at the Borella Cemetery, in the presence of a large gathering of Anandians, young and old, relatives and friends.
May he attain the Bliss of Nibbana.
Meghavarna Kumarasinghe
Secretary – Media
Old Anandians Rugby Wing