Row…Row eight in a boat gently down the stream
View(s):

The inaugural Bolgoda Endurance Challenge Regatta 2015 was held last weekend at the Bolgoda Lake within the premises of Ranmal Holiday Resort in Moratuwa with many firsts coming out from the two-day event. S. Thomas' College, Ladies College, Sri Lanka Navy women and Sri Lanka Air Force men were the top achievers as they reached the pier sooner than their rivals to take the gold home. With a completely new experience for the oarsmen and women and moreover the rowing enthusiast in Sri Lanka a boat that could contain eight rowers at the same time was put to race in the waters of Bolgoda.
In the Women's category Ladies' College were cut above the rest. In the sculls Senuri de Silva of Musaeus College completed the race in 36 minutes and she was closely followed by Davina Koch of Ladies College with a 45-second time gap. Ranuli Wickramasekera, also from Musaeus College, came in third. The Women's Open Scull race was dominated by the forces. Clocking 33.05 minutes for the gold medal was Sri Lanka Army's P.P.T.S. Weerasinghe. Second place was taken by R.A.M. Dilhari of Sri Lanka Air Force with 33.12 minutes and in third was S.H.D.N. Sandamali of Sri Lanka Navy who clocked 34.04 minutes.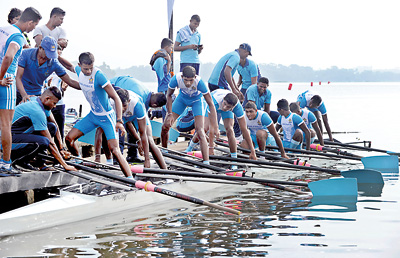 Oarswomen from Ladies College and Musaeus College raced against time in the 8+ in the Under-19 category for the first time. The Ladies team finished first ahead of Musaeus with a time difference of 1 minute and 27 seconds. The energetic school girls who raced the 8+ for the first time are, representing Ladies College, who clocked 46.31 minutes were, Tarea Karunaratne, Shannon Perera, Veronica Srikumar, Nihara Waravita, Dihanie Amarasinghe, Davina Koch, Chanika Thevarapperuma, Yellani Rasaputra and Tehani Walpola.
Musaeus College clocked 47.18 minutes and were represented by Dilki Wijeyesekera, Senuri de Silva, Ranuli Wickramasekera, Malki Wijeyesekera, Niseni Hewamallika, Binali de Alwis, Maedhini de Alwis, Anuki Hewamallika and Mayanthi Weerakoon.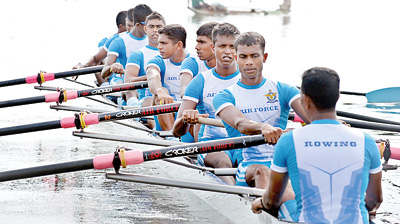 In the Open 8+ for women, teams from Sri Lanka Navy and University of Moratuwa competed against each other. The Navy team had the best timing out of all the women's in this category, with 45.52 minutes. G.H.N.S. Kumari, G.L.D. Malkanthi, S.H.D.N. Sandamali, W.A.N. Damayanthi, S.A.S. Madubashini, M.P.K.J. Kumarasinghe, G.G.T.U. Sumanathissa, W.A.U. Subashini and W.S.K. Wimaladasa took Navy ahead in the 8+ while representing University of Moratuwa, who clocked 47.36 minutes, were G.A.G. Senalankadhikara, B.A.S.W. Chandrarathna, J.A.D.S. Piyamal, K.M.D.A. Uchinda, H.K.T.R. Karunarathna, H. Gunasekera, Thilini Girihagama, H.G.U. Imega and L.K.N.N. Lihinikaduwa.
In the Men's category the Scull Open race category was led by the Sri Lanka Air Force, who had R.K.K. Chandrakumara and M.K.B. Chathuranga aiming for the gold and silver medal respectively. H.M.S.A. Senaratne from Sri Lanka Army finished at third. S. Thomas' College took more medals home though they had to miss the gold to Champaka Edirimanna of Asian International School in the Under-19 category. Saliya Gunasekera and Deshitha Hennayake of S. Thomas' finished at second and third respectively.
Men's 8+ challenge saw more number of participants than the ladies. Oarsmen from S. Thomas' College, Royal College and Asian International School finished at first, second and third respectively in the Schools category, while the three armed forces took all three medals in the Men's Open 8+.
In the Men's Under-19 8+ the Thomians finished first with a timing of 41.05 minutes and representing the Mt. Lavinia school were Kemil Peter, Deshitha Hennayake, Chirath Dasanayake.
uramba Serasinghe, Senal Seneviratne, Duvin de Mel, Ramith Nanayakkara, Saliya Gunasekera and Wishmitha Perera. The combination of Pramod Rajaguru, Bilal Hassan, Praveen Hapugalla, Prathap Perera, Lasindu Gamage, Lahiru Herath, Amrith Fernando, Sajid Ajmal and Avishka Jayaweera took Royal to the piers with a timing of 41.15 minutes, but as second.
Finishing at third was Asian International School, who clocked 42.31 minutes. Shehaan Abbas, Sonura Jayarathna, Ujitha Hennayake, Thakesha Jayarathna, Sharaan Karunaratne, Khizer Ahamed, Yuvin Wickramanayake, Kiaan Ahamed and Girnath Rajendran represented AIS.
The inaugural Men's Open 8+ title went to Sri Lanka Air Force, who clocked 37.11 minutes to beat the Sailors and Soldiers. The victorious team was formed by W.G.I. Jayarathna, R.K.D. Fernando, K.S.T.S.N. Kariyawasam, G.J.V.P.H. Manjula, R.M.U. Ranasinghe, H.D.S. Samaraweera, K.G. Sanjeewa, A.A.D. Sandaruwan and C. Aloysius.
Sri Lanka Navy finished 44 seconds behind at second place. They had T.M. Piumika, E.S.V.J.N. Premakumara, S.A.C.S. Kumara, A.G.W. Priyadharshana, W.G.S.L. Gunaratne, B.G.D.I. Karunarathne, N.G.A.N. Gunawardane, H.A.S.G. Hathurusinghe and J.C. Nishantha in their team.
Clocking 38.52 minutes was Sri Lanka Army who finished at third. R.D.K.S. Weerasinghe, W. Pushpakumara, D.M.A.I. Dissanayake, P.G.C.S. Karunaratne, W.S. Asitha, L.P.P. Sameera, E.P.N. Prasad, M.P.M. Medonza and Deepal Kumara were the oarsmen for the Soldiers.
In the process, the inaugural regatta timings have been set and the organisers, the Bolgoda Lake Rowing Club, hope to make the event look more professional in time to come.
- Pix by Amila Gamage