Come the real thing with Kholi and the lads
View(s):

Over the last three to four years, we had Sri Lanka-Pakistan series almost ad nauseam Niro, after a lapse of five years; we have the "Real Thing" – a three match series against Kohli's Indians.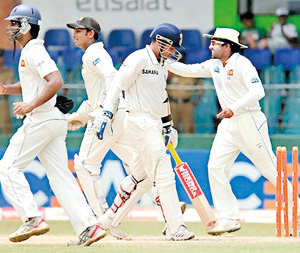 Sadly, a lot of the greats who adorned that series in July-August 2010 will be missing. Sachin Tendulkar, Rahul Dravid, Virender Sehwag, VVS Lakshman and the recently retired MS Dhoni will certainly be missed. Mahela Jayawardena and Thilan Samaraweera have called it a day, while TM Dilshan and Lasith Malinga continue in the shorter format. Murali bade farewell after his 800th wicket at Galle. Sangakkara will soon be gone. Yes, the old order change the yielding place to new.
Big scores were the order of the day as a galaxy of batting stars went about their business. Five hundred, six hundred and even seven hundred totals were achieved the minimum of fuss. Predictably, these totals came down to more modest proportions in the third test played on the 'sporting' pitch at the P. Sara Stadium.
It is norm the form for cricket teams to start in Galle as the Portuguese did ever five centuries ago. Tharanga Paranavithana set the tone with a Nelsonesque score (111) while Sanagakkara fell short of that by eight. Forties from Jayawardena and Angelo Mathews and an unbeaten 80, how an unlikely source (Herath) saw Sri Lanka declare at 520-8. Newcomer Abhimanya Mithun 4-105 and Ishant Sharma 3-145 were the wicket-takers in chief.
Sehwag flashed around in his 109, while Yuvraj Singh with 52 was second best Murali (5-63) inevitably took the honours.
Following on 244 behind the Indians put together a total of 338, chiefly on the back of Sachin's 84 and Laxman's 69. Murali added three more.
But Malinga (5-50) out-performed him to collect the man of the match award. Dilshan raced away to 68 not out and Sri Lanka 95-0 had come out on top in the opening gambit from result-oriented Galle to the SSC, the local equivalent alert of Pakistan's Faisalabad. 1478 runs scored and 17 wickets lost over five days. Paranavithana made it two out of two with another hundred. The "Enfant Terribles" of Sri Lankan cricket Sangakkara (219) and Jayawardena (174) kept up their love affair with the SSC, Sri Lanka's 642-4 was duly overhauled by Indians mammoth 707, Sehwag 99, Suresh Raina 120 and Dhoni 76 sparkled. However, that batting great, Tendulkar upstaged them all with a magnificently crafted 203.
Ajantha Mendis (63-10-172-4) and debutant Suraj Randiv (73-16-222-2) toiled manfully. Yet it must have been a great experience trying their wiles against the best in the business.Sangakkara was on his way once more (44 n.o.) but the match ended with the home team on 129-3 in their second dig, and poised for a series triumph.
Alas for the best laid plans of mice and men! Sri Lanka 425 was quite challenging. Samaraweera, epitomising elegance, charmed his way to an unbeaten 137. Sangakkara 75, Jayawardena 56 and forties from Dilshan and Mathews propelled the team to 425. Sehwag, who enjoyed a quite wonderful series, made 109 in the Indian reply of 436 – a lead of 11. Dravid failed (23) yet Tendulkar 41, Laxman 56, Raina 62, Mithun 46 and Misra 40 all put their shoulders to the wheel. Randiv (4-80) came off best.
Samaraweera 83 and surprise Ajantha Mendis 78 stood tall in the second innings.
Pragyan Ojha, Sehwag and Amit Misra all had three wickets.
Prolific Sehwag was for once out cheaply and Sachin made a modest 54. However, man of the match VVS Laxman (103 n.o.) together with Raina (41 n.o.) took India to the 258 target. Randiv obtained a five-for in his second Test, Sehwag claimed the man of the series award.
Almost all the giants have left the scene and this series will be between two modestly endowed teams. Let's we forget great oaks spring from little acorns.