Stylish dress ideas for the wedding season
By Arundathi Yasok
View(s):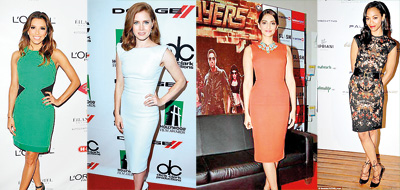 The wedding season is almost upon us and it's the perfect excuse to buy yourself a glamorous outfit.  Most girls opt for a maxi dress. As much as they are comfortable and minimal effort to style it has become far more common as everyone ends up wearing them at weddings. It's also better suited for a tall physique with narrow hips. But many Sri Lankan women have pear shaped bodies which is a good thing! You have a lot more options out there than the usual maxi. Today's column is about the countless other stylish options available that you could consider for the next wedding you attend.
Hope these tips and ideas would be useful for your next wedding invitation. But remember the most important factor is you and not the dress. So don't over dress, you should be the main attraction not the dress! The writer of this column is a young entrepreneur and fashion designer at Butterfly Apparel. She is also the co-owner of the store along with her husband Yasok Nagarajah. You can follow them on on www.facebook.com/butterfly.apparel
Feminine sheath/ pencil skirt dress
This dress has a touch of formality to it which is perfect for a wedding function, even quite modest for a religious ceremony at a wedding. Furthermore, since the dress is more basic you can add those colour block pumps or accessories you have & stand out at the event! This dress is also versatile, where later on you can even wear it for an event at work! Bonus!
The ever so delicate yet luscious lace dress
Lace dresses bring out the more delicate & innocent feminine look in women.  Also since most lace fabric used are with designs and a lot of lace work, you don't need to add much accessories but a basic open-toe strap & a pair of striking dangle earring would do.
The elegant  A-Line dress
This is the most flattering for us pear shaped ladies. It helps to highlight the wide hips with a more a sophisticated look. But a note to keep in mind is that it is best to stick to a knee length or above the knee but never a floor length, as most bridal dresses are A-line and floor length.
Some dresses with Oomph
If you really are craving to be more fashion forward there are so many options out there, but let me share a few that are also suited for us Sri Lankan ladies.
a) The Off shoulder dress– This has a class of its own. You could add a jeweled brooch or a statement necklace to add some extra glamour to the dress.  This too should be worn knee length or above the knee & never floor length as it will resemble most brides maid dresses!
b) The Trapeze Dress – This is perfect if you want to hide your waist, as the waist is more loose and you can even use a belt to to have it fit comfortably. c)The high/low Dress – This is a very trendy option currently, if you like the maxi structure but want a bit of a punch. Mostly the front of the dress is little shorter than the back.
d) The shift Dress - This again mostly has sleeves and the waist is loose, so perfect to hide the arms and waist area.  It can also  be worn for work events as it is quite a formal dress type.
e) The Peplum – This gives a curvy element to the dress hence perfect for those of you who like to flaunt those curves!