'Smile through Sorrow' ends on June 11
Sanath expresses concern over early removal: - 'Film is not doing well': Producer
View(s):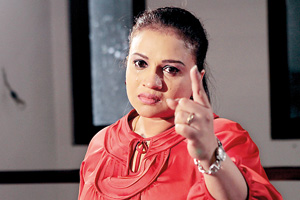 Sanath Gunathilake's film 'Sinahawa Atharin' (A Smile through sorrow) will be removed from the main theatres of the EAP circuit cinemas on June 11, after completion of 40 days.  The second directorial venture of Sanath Gunatillake, a story of a triangular love was released at Liberty cinema, Kollupitiya and other EAP circuit cinemas around the country.
Speaking about the removal of the film from the main theatres, Sanath said that it is sad that the film is to be removed when it is doing well in some theatres. He said that there is a system which is controlled by the distributors which is not conducive to the film industry and artistes.  However producer of 'Sinahawa Atharin', Sunil T. Fernando who himself owns some theatres said that the film was released only for 40 limited days.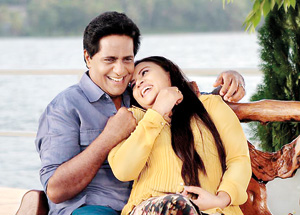 "The film is not running well. If the film is not doing well we have to remove it and give way for the next film," he said.  He said though removed from the main theatres it would be on the flow down which meant it would be screened at the theatres in the outstations. When asked whether removal of the film early would affect him as he was the film producer, Sunil T. Fernando said "It is a gamble" and that we have to be ready for this kind of situation.
The film featured Semini Iddamalgoda, Chris Henri, Jayani Senanayake, Robin Fernando, Nadeeka Gunasekera and Sanath himself in the main cast. Written and directed by Sanath Gunatillaka, the musical score is written by Nirosha Viragini and director of photography is Sujith Nishantha and the film is edited by Nanda Jayakody.