'Kabok Gedara Holiday Resort' : Living with nature
By Sanath Weerasuriya
View(s):

'Getting close to nature' is going to be the theme for more resorts especially with the eco concept based resorts and typical home stays. Kabok Gedara Holiday Resort (KGHR), the latest addition to Bolgoda based holiday home, is located by the side of the Bolgoda River connecting the North and South Lakes, the largest natural Lake of Sri Lanka.
Being just an hour's drive from Colombo, Kabok Gedara Holiday Resort is an ideal hideaway for those who looking to get away from the hustle and bustle of the city. It provides an ideal getaway for nature, adventure and ecotourism enthusiasts. KGHR is also a place for rest and relaxation as the resort is located in tranquil surroundings. The resort is easily accessible from the well developed townships of Piliyandala and Bandaragama along the main highway to Kalutara in southward directions.
Built with traditional Sinhala kabok and showcasing authentic village architect style, Kabok Gedara has four bedrooms boast about with all modern amenities.
Two of them are eqipped with air conditions and the rest is with ceiling fans. two rooms are located on ground level and two with a balcony over looking the beautiful Bolgoda Lake.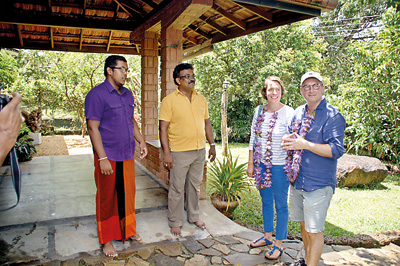 In addition to a modern kitchen, pantry, living room and dining facilities within the house, a separate dining hall – an outdoor restaurant constructed in eco-friendly traditional building materials, is absolutely outstanding. The restaurant can cater for a large groups of holiday makers.
'This was built mainly to facilitate the groups visiting Kabok Gedara for day outings and excursions in the lake. Families and Corporate outing are very popular as Bolgoda offers many water ports based activities' explained Palitha Gurusinghe, the person in charge of marketing this eco- friendly property.
There is an adequate ground space available around the house for group activities such as games, team building, camping, open banqueting etc. Boat excursions in the lake are very popular. Bolgoda lake is a wonderful location for bird watching and the resort is providing all facilities to avid bird watchers. Overnight Camping in the peripheral ground areas and in the nearby island are also an exciting activity to attract youth groups, who have a flair for adventure activities.
Kabok Gedara Holiday Resort has arranged a lot of nature and eco-based activities for the discerning nature lovers.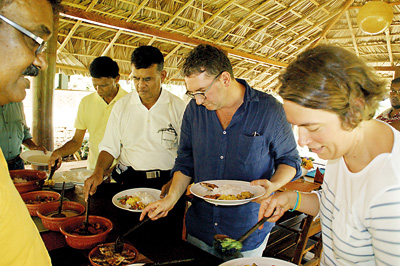 Bird Watching, Camping, Walking through the village/Village Life, Canoeing/with non-motorised water crafts, Nature photography, Cycling, fishing, agro-based tourism activities, visiting and study of Heritage sites located close to the resort, open-fire cooking with the village community, indigenous ayurvedic practices and demonstration on rural farming are some of the activities promoted at the site.
'Kabok Gedara Holiday Resort is ideally suited for family day outings, Team Building activities, weddings, get-togethers, honeymooners etc' he added.
Rates at the KGHR are reasonable. The whole resort can be reserved for one full day for Rs.9500- with 4 rooms. A Care Taker is available for culinary assistance
'For the families who wish to stay overnight a twin AC room can be reserved for Rs.2900/= they could take meals from the resort itself or cook by themselves with the assistance of the care taker' Mr Gurusinghe said.
Kabok Gedara Holiday Resort is located at Kaburugoda Road, Pahalahena, Bandaragama.
Contact Sri Lanka Eco Tours on 0777 631334 – Email; sleco@sltnet.lk or log onto www.kabokgedaraholidayresort.com for more details.