Focus on star making business 'Siriwardane Pawla'
View(s):

Award winning playwright Rajitha Dissanayake's latest play 'Sirwardane Pawla' (Siriwardane Family) will go on the boards at the Mahanama College Auditorium, Colombo on June 6 at 3.30 p.m. 'Siriwardane Pawla' revolves around a young man who tries to become a popular star by competing in a TV reality show. The young man, Supun and his family, consider this stardom to be a ticket to achieving a respectable place in a society where almost all other avenues of social mobility have been blocked.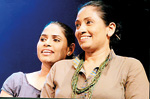 Focusing on a single family's dreams, the play highlights how the corporate media manipulates society. It also shows the predicament of those who pursue false ideals propagated by the media and how they lose their humanity in the process. In the last two decades Rajitha Dissanayake has produced popular and award-winning plays like 'Weeraya Merila', 'Sihina Horu Aran', 'Apahu Herenna Be', 'Bakamoona Veedi Basi' and most recently 'Adara Wasthuwa'. His script focuses on important socio-political issues and have drawn crowds, sparked debate, won awards and toured internationally.
The cast of 'Siriwardane Pawla' comprises Jayani Senanayake, Dayadeva Edirisinghe, Nadeeshani Peliarachchi, Shyam Fernando, Anuradha Mallawarachchi, Pasan Ranaweera, Devinda Wickramasinghe, Kasun Chathuranga and Charindra Chandrasena. The set design is by Dharmapriya Dias, music design by Kapila Poogalarachchi, lighting by Ranga Samarakoon, costume design by Nalin Lusena and S Mabulage and make-up by Priyantha Dissanayake. Shyam Fernando will be the stage manager and he will be assisted by Vijith Nuwan and Charindra Chandrasena.