SLF film screening discusses gender representation and cinema
View(s):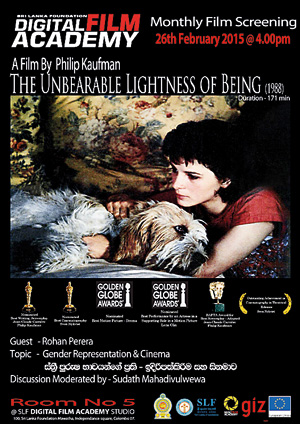 The monthly film screeing by the Digital Film Academy of the Sri Lanka Foundation will screen 'The Unbearable Lightness of Being', a film by Philip Kaufman at 4 pm on February 26 at Digital Film Academy Studio of the SLF, Colombo 7.
Multi-awarded movie is a 1988 American film adaptation of the novel of the same name by Milan Kundera, published in 1984. Director Philip Kaufman, the film portrays the affect on Czechoslovak artistic and intellectual life during the 1968 Prague Spring of socialist liberalization preceding invasion by Soviet led Warsaw Pact and subsequent coup that ushered in hard-line communism. It portrays the moral, political, and psycho-sexual consequences for three bohemian friends: a surgeon, and two female artists with whom he has a sexual relationship.
Tomas is a doctor and a lady-killer in 1960s Czechoslovakia, an apolitical man who is struck with love for the bookish country girl Tereza; his more sophisticated sometime lover Sabina eventually accepts their relationship and the two women form an electric friendship. The three are caught up in the events of the Prague Spring (1968), until the Soviet tanks crush the non-violent rebels; their illusions are shattered and their lives change forever.
The film screening will be followed by a discussion on 'Gender representation and cinema'. The guest will be Mr. Rohan Perera and discussions is moderated by Sudath Mahadivulwewa.