A mash of colours
View(s):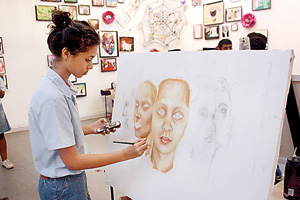 At Elizabeth Moir School they like their paint and that's why the school's art exhibition this year was aimed at not just showcasing their students' work, but also at raising funds for a purpose-built art studio.  Students aged 11-17 put their work on display last month at the Lionel Wendt, and through a silent auction their work went onto raise funds for the studio. The children were inspired to build this studio for themselves away from classrooms so they could paint, model and sculpt to their heart's content. During the exhibition parents and guests were made aware that the paintings were on a silent auction and bid on pieces they were interested in.
Advanced level Art students Anya Law, Nakiya Jafferjee and Savannah Ratnayake ran their own stall, where they painted on the spot for the guests. The main theme for the exhibition was 'Then and Now', and many students focussed on the past and present, drawing parallels and highlighting differences in architecture, transport and ways of life. Special attention was given to the Dutch influence on architecture, and the care given to the preservation of these buildings.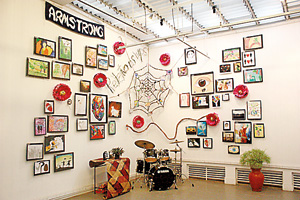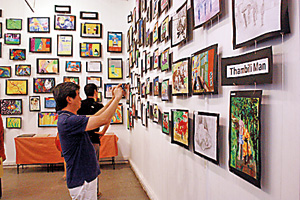 The school's inter-house art competition was also held in conjunction with the exhibition and this was adjudged by Murad Ismail. The house that walked away with the trophy was Columbus House, and Captain Ashfath Ifham together with Nicola Wijeyarathne shared with us the inspiration behind their winning theme 'Addiction'.
The centrepiece was of a face split into two backgrounds-the 'good' and 'bad' sides of addiction. On the 'good' side art, music, reading and sports took precedence while on the 'bad' side were an over-attachment to social media, narcissism and sweets. The students even used actual chocolates, pictures and an iPod to get the message across.
Fleming House was placed second with 'Inside Outside and Anything in Between' and Hillary House third with 'Discrimination'. Thevini Ranasinghe and Anya Gunawansa placed first in the middle school, and Kaavya Gnanam received an honourable mention. Praveena Wickremanayaka placed first in the senior school while Nakiya Jafferjee and L. Lua Mohamed received honourable mentions.