At home in the limelight
View(s):

Nobody, including Dushyanth Weeraman himself, ever imagined that the typical school jock would call the stage his home. Some might remember him for his Michael Jackson inspired footwork, or his hits that make regular air time on Sinhala radio stations. His work as an actor has not gone unnoticed both on screen and stage, thus making him a multiple talent. Reaching a decade in his career, Dushyanth is in the mood for a celebration with his upcoming concert "Celebrating ten years".

While it certainly looks impressive on paper, juggling such a multifaceted career is no easy task. When we meet Dushyanth in his studio in Pepiliyana, he sits down for a few minutes only before having to whizz off to another meeting, with us in tow. "On stage I felt like I was in a place I could be comfortable in," he admits, trying to navigate through the Nugegoda traffic. Crowned the winner of the Sirasa Dancing Stars reality show, one would hardly believe that Dushyanth's skills are the result of dancing in his room as a child. In school he excelled in sports but would always look forward to Talent Search hosted by his alma mater; Royal College. This offered a platform for the natural entertainer in him to blossom.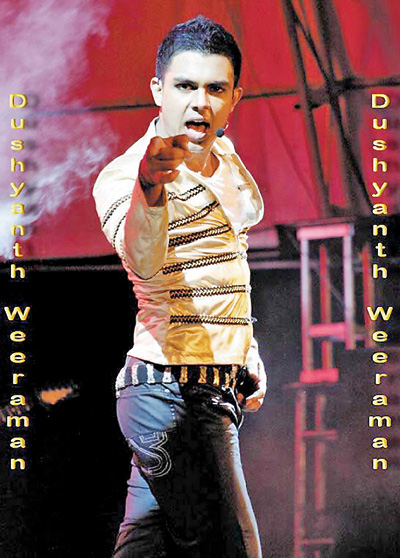 But it wasn't enough. At least, not for his ambitious spirit. "When you're a cricketer there is the big match to look forward to, when you play rugger it's the Bradby," but when it came to the arts, Dushyanth could only wait till the annual Talent Search came around, and even then only perform as a guest act from the organizing school. His first break would come when he won the Showboat All Island Singing Competition. He isn't one to be coy about his talent, but really opened his eyes to his potential after his brother Santhush's vocal teacher Mary Anne David practically threatened him into joining her class.
Under her wing, Dushyanth learned to love the classics and explore the study of music. He would justify her faith in him, landing lead roles in musicals such as Guttila, Rag and the Phantom of the Opera. Constantly surprising himself and those around him, he had more than just a few tricks up his sleeve when he plunged into the local music industry.
"We don't really have an industry," he reflects, having experienced the more professional and structured music industry in entertainment hubs such as Los Angeles. What he sees here, is dedicated musicians and artists pursuing their talent on the sidelines, and a trade that is still sleepy-eyed.
It's why he decided to give up his job at Diesel & Motor Engineering PLC. His parents, he confesses had their doubts when their son decided to exchange his 'proper' job for making music and performing in an industry with a still obscure future. "But I would have been a very sad lad in the automobile industry," he smiles, clearly not regretting the risks he was taking in following his dream.
The show is a celebration for him and for his fans who have stuck by him throughout the last decade of song, dance and art. The night will feature his music along with collaborations with some of local music's biggest names; Bathiya Jayakody, Santhush Weeraman, Umara Singhawansha  Umariya Singhawansha, Randhir Vithana and many more.
Ten years down the line, he has repeatedly successful hits, a dance and acting career taking full flight and has even opened his door to teaching and fostering the talents of youngsters. Whether he is facing an audience at the Lionel Wendt , a packed concert or travelling around the country to perform , life is a constant window of new experience. It's been an exciting journey for the 14-year-old who started singing for school crowds and his Sunday school class competitions-a constant eye opener, he says, adding that he looks forward to each new day.
The show, 'Dushyanth Weeraman- Celebrating 10 years' will be on Sunday, March 1 at the Musaeus College auditorium. Tickets priced at Rs. 1,000 ,1,500 , 2,000 , 3,000 and 5,000 are available at Sarasavi Bookshop Nugegoda and Maharagama, Sadeepa Bookshop Borella, Yamaha Music Centre, Colombo 7, and Wanapetha Bookshop Dehiwala. Tickets are also available from TicketsLK Tickets Office at Colombo 3, the Abans Main showroom – Colombo 3 and Chamathka Jewels, Crescat. -P.P.