Comedic trio makes a return to stage
By Vinusha Paulraj
The Mirror Magazine catches up with the cast and director of 'Tom, Dick and Harry'
View(s):
The comic story of Tom, Dick and Harry by Michael and Ray Cooney will be revived by Silent Hands Productions, at the end of the month.  Polishing-up their lines and busily adjusting to some last minute tweaks, for some of the cast this is the first appearance under the Silent Hands label but not under the direction of Jehan Bastians. "We have a new, more mature cast" this time he shares.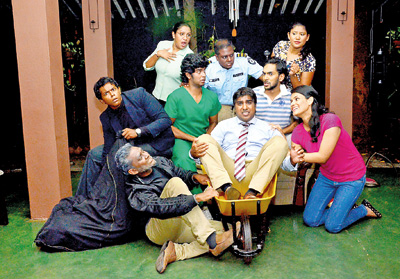 Iranga Mendis Wickramasinghe's role is that of "the medium brother" as the youngest of the three, Harry puts it. Playing the breezy middle brother who would "do anything for a buck even if it's illegal," he says. In contrast Tom, the oldest, more settled one is looking to adopt a baby with his wife Linda and the youngest is the more dull-witted Harry. Iranga says "the three very different dynamics make the play funny."
Expected to be "blissfully ignorant about the real goings-on" Viran Corea is playing Constable Downs. Despite being oblivious, the constable rarely leaves a scene without adding to the layers of confusion already rampant on stage. Basically, he says, the character catalytically "intensifies any situation out of which humour flows."
Everything in the play either happens to or around Tom, played by Mahesh Senaratne. The struggle gets real for Tom and as the play progresses you can see the cracks. "He's been torn between loyalties," which isn't difficult to foresee given his family-oriented nature. A wife who "can't stand his younger brothers" can't stop Tom from looking out for them. "He doesn't want to disappoint those who mean a lot to him."
Linda, Tom's wife will "stop at nothing to get a baby," according to Christina Vancuylenburg. Playing a determined lady pushing 30 and her husband in preparing for the adoption agent's final visit she makes no effort to deny that "Tom is severely hen-pecked." It soon becomes evident that Linda wears her heart on her sleeve and has little patience and much less tolerance for Tom's interfering siblings. Sensing that Dick who is their tenant as well would manufacture some trouble "she doesn't want him around when the agent visits."
Playing the stiff-upper-lipped adoption agent, for Nedra Williams the role of Mrs. Potter is a reprisal. Her visit was supposed to be a quick "in-out, breezy, sign-the-dotted-line" formality but the meddlesome brothers make it a tough one for her character who "doesn't have a sense of humour."
The stress of Mrs. Potter's visit doesn't seem to have any effect on the well-meaning youngest brother, Harry who is portrayed by the youngest cast member- Charith Fernando. "Its kind-of true," he says of the general idea that the rest of the cast has of his role. However Harry has the best of intentions when he brings home a cadaver which was vital to a plan that predictably misfires. "It's difficult for the others to get mad at Harry, because you know he's only trying to help."
Chaos on stage is only amplified when Minuri Disanayake Rambukwella and Naresh Anthony make a loud, Sri Lankan entrance. Playing the roles of Tikiri Kumari and her grandfather, the two very lost illegal immigrants also end up taking refuge in Tom's flat.
"I'm known as the 'Latha' among my friends," Minuri laughs. The role however has been a challenge to pull-of she feels, but is coming along well after shedding some consciousness one is trained to have on stage. For Naresh who has to go all-out Sri Lankan, complete with a few drunken Baila sessions the challenge was "pretending not to understand English and creating a language barrier." Adding a touch of mystery to the Sri Lankan presence, Roshane Jayampathy too is to make a dark appearance.
The entertaining tale of 'Tom, Dick and Harry' will go on stage on February 27, 28 and March 1. Tickets are  available at the Lionel Wendt.