TNA meets new President tomorrow
By Namini Wijedasa and S. Rubatheesan
Resettlement of displaced civilians, replacement of NP Governor, Chief Secretary issues for discussion
View(s):
The Tamil National Alliance will have its first official meeting with President Maithripala Sirisena tomorrow, a spokesman said. Issues of immediate concerns to Tamils will be taken up with the new leaders, said TNA MP M.A. Sumanthiran without revealing specifics.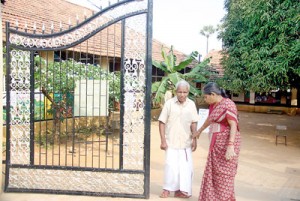 Tamils in the North voted in great numbers at the Presidential election on January 8. They filed into polling booths throughout the day. High voter turnouts were recorded by the Elections Department. The Wanni District (Mannar, Mullaitivu and Vavuniya) showed a total participation of 72.57 per cent. In the Jaffna District, which has 11 electorates, there was a voter turnout of 66 percent.
These numbers were significantly higher than those recorded at the 2010 Presidential election pitting former President Mahinda Rajapaksa against former Army Commander Sarath Fonseka. That year, Jaffna returned a poor 25.66 percent voter turnout while the Wanni was slightly better at 40.33 percent.
"It was surprising to see how people showed up to vote," said Sinnathampi Kantharasa, a 70-year-old retired clerk residing at Chavakachcheri. "People started to pack the polling booths in the early morning and soon after in the evening our whole city was totally deserted."
"I had to wait more than half an hour to cast my vote," Mr. Kantharasa added. "Not only youngsters but elderly people were inspired to vote."
Voting was peaceful despite isolated incidents. The worst of these were two grenade explosions. One was flung at an abandoned house about 600 metres from the Alvai Sri Lanka Vidyalam in Alvai, Point Pedro. Elections observers at the booth said polling was suspended for one hour.
A second grenade was thrown into the grounds of the Nedunkulam Kalaimagal Vidyalayam in Vavuniya by two unidentified persons who rode by on a motorcycle. The school was also a polling station. Observers believe both were intended to discourage voters from coming to vote.
Fears of possible military intimidation or violence did not materialise. The Centre for Monitoring Election Violence (CMEV), an independent election monitoring body, said the electoral process in the province had been peaceful despite minor incidents.
Mr. Sumathiran said people had cast their ballots to restore democracy. But high voter turnout was also a rejection of a call to boycott the election, issued by some Tamil groups, he opined. The TNA had urged people to exercise their vote although it only announced it publicly during the last week of the campaign. The TNA MP said they had started door-to-door visits well before they endorsed Mr. Sirisena openly.
"We supported Mr. Sirisena on the basis that we wanted a restoration of democracy," Mr. Sumanthiran elaborated. "That is the first step for us because without a democratic environment there is no point discussing other issues. We hope now that all the reforms will be made."
Mr. Sirisena had made certain pledges in his 100-day programme as well as in a leaflet published in all three languages. Among the issues of immediate concern to the Tamils is the resettlement of civilians evicted from their private properties in the North. This includes civilians who lost their homes and farmlands to High Security Zones.
"There was an undertaking that, apart from Army camps which have to be maintained for national security, all private lands which have been taken for various purposes will be released to the people," Mr. Sumanthiran explained. "It was also promised that all persons displaced due to the war—be they Sinhala, Tamil or Muslim—will be resettled on their own lands."
Mr. Sirisena's manifesto broadly says: "Relief will be provided to all citizens who were illegally evicted from their houses and land under various grounds."The party also expects the Governor and Chief Secretary of the Northern Province to be replaced. There was a longstanding disagreement between the TNA and former President Mahinda Rajapaksa on his choice of appointees to these posts.
An immediate return to civilian rule is anticipated. President Sirisena's manifesto says that the involvement of State intelligence agencies for political and civil activities will be prohibited by law. Surveillance is high in the Northern Province.
Mr. Sumanthiran rejected attempts by members of Mr. Rajapaksa's administration to undermine the new President by saying he got more minority votes than majority Sinhala votes. Minister Wimal Weerawansa asserted at a news conference yesterday that Mr. Sirisena had been elected by, "a majority of the minority and a minority of the majority."Mr. Weerawansa was advocating a "classic majoritarian rule," the TNA MP said. "This country is composed of different people," he pointed out. "Any President must have the support, not just of one community. The Government must enjoy the confidence of all communities. Maithripala Sirisena has at least the support of half of the majority community and overwhelming support of communities which are minorities in numbers."
This, he said, was the ideal situation for the country to move forward without social strife.