In Kalutara, security carries different aspirations
By Chathuri Dissanayake
View(s):
Most voters in Kalutara voted for the man who gave them security but others felt that under the Rajapaksa government fear had entered their lives.
People were keen to cast their vote, most casting their ballots in the early hours; in many of the polling stations across the coastal belt long,
winding queues were seen in the morning. But the 70 per cent turnout was lower than in the 2010 presidential election, which was 81 per cent.
The area was mostly peaceful on Thursday, with only minor infringements of election law. Supporters from both
sides distributed how-to-vote pamphlets or scattered them on the roads.
"This is a decisive election, so we took an interest in voting," said Padmasiri Jayawardena, a retired teacher who was at the polling booth with his daughter who was voting for the first time. Mr. Jayawardena does not believe that there should be any change.
Kalutara voted 52-46 per cent in favour of Mahinda Rajapaksa, a result not favoured by minority groups that backed his challenger, Maithripala Sirisena.
Mohamad Hadil, 30, was also keen to vote, believing this election gave him a crucial chance to avert the kind of violent incidents that occurred in the recent past.
"We expect a change," Mr. Hadil said. A gem dealer from the Arakkalawatta, Beruwala area, he was keen to see a change in the country's leadership following the violent attacks the area's Muslim community had experienced last year.
"Even our mosque was attacked and I don't want it happening again, so for us this is a very important election", he said, in sentiments echoed by P.H. Saleem, who came with 20 other members of his household to cast votes.
Tharidu Ishantha, a garment factory worker from Beruwela, believed the day would see a different leader in the country.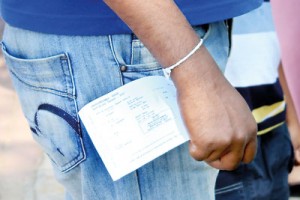 "We need a change now, and I think we will have one," he said after he voted.
A first-time voter, 19-year-old Sadaru Yasuru from Kalutara South, said this was a "much-felt" election for youth.
Yasiru, who is to sit for his Advanced Level exams this year, felt the country did not need a change. Keen to ensure that current peaceful conditions continue in Sri Lanka, he said that change would bring uncertainty.
"This was a very competitive election; I was very keen to vote this time. We don't want a war again so I don't think there should be a change in the leadership," he said.