This flitting beauty is no longer extinct
View(s):

The Tamil Oakblue (Arhopala bazaloides lanka), long considered extinct in Sri Lanka and removed from our list of butterflies, has been rediscovered in the wet zone lowland forests of Sinharaja and Kanneliya.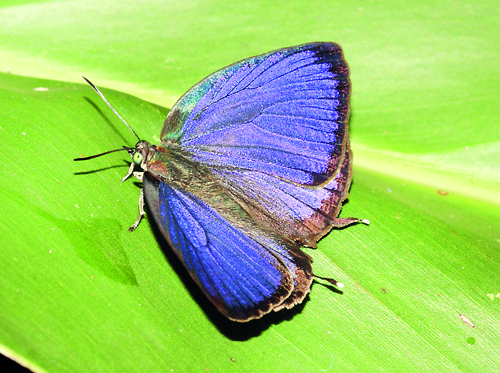 In 2008, Chamitha de Alwis and a member of the Hiyare Wildlife Conservation Society of Galle had spotted a butterfly in the Kanneliya Forest Reserve that they suspected was Ormiston's Oakblue (Arhopala ormistoni). A few weeks later, it was photographed by Dr. Michael van der Poorten and was tentatively identified as a male Ormiston's Oakblue because of its close resemblance to it on both the upperside and underside of the wings.
Fast forward five years to July 2013: at the Sinharaja Forest Reserve at Kudawa, Himesh D. Jayasinghe and Sarath Sanjeeva photographed a female which looked similar to Ormiston's Oakblue on the underside but which was completely different on the upperside. They raised the possibility that this was either a new species or the Tamil Oakblue. Having examined the photographs thoroughly, they also questioned the identification of the specimen tentatively identified earlier at Kanneliya as Ormiston's Oakblue.
Dr. van der Poorten re-researched all the material available both at the Colombo Museum and the Natural History Museum (NHM) in London England and has confirmed that the butterfly found at Sinharaja as well as that found at Kanneliya is indeed the Tamil Oakblue, Arhopala bazaloides lanka, as described by W.A. Evans in 1957 from an undated specimen from Sri Lanka in the NHM (London).
The rediscovery of this endemic subspecies brings the total number of species in Sri Lanka to 246.