Colours of Kenya that took her on an artistic journey
By Vinusha Paulraj
An artist cum teacher Kishani Wikramanayake's students are getting ready with a variety of artistic creations for the exhibition "Art Fusion"
View(s):
Kishani Wikramanayake's home is full of interesting objects. Papier Mache masks smile at you from the floor and colourful aborigine-styled paintings greet you from the walls. Standing in her studio, now piled high with paintings by her students she smiles, "there are still more entries to come."
Her 3-18 year old students are gathering their work for an exhibition. Among the organised chaos in her studio that also doubles as a teaching space, canvas paintings are just one variety of the bursts of colour. "These are made out of old Vim bottles!" she laughs lifting up figurines of prominent personalities. Setting-down the mini Lasith Malinga next to Spider Man she divulges that lessons for her students are never repeated. Having been teaching routinely since four years ago, "not even one technique has been repeated" she says. Nail and thread work to graphite pencil sketches are all to take centre stage at the exhibition, fittingly titled "Art Fusion."
A house full of art is not entirely new to Kishani who remembers drawing on the walls of her home as a child. "I must say my mother wasn't too pleased," she admits but with the encouragement of her architect father she managed to get away with it. Knowing that colours and shapes meant something special, she began her journey as an artist early on in life.
Leaving Sri Lanka at the age of six her father's posting in Kenya meant she too remained there for a good chunk of her academic life, Kishani remembers the safaris and getting utterly inspired by the colours she saw.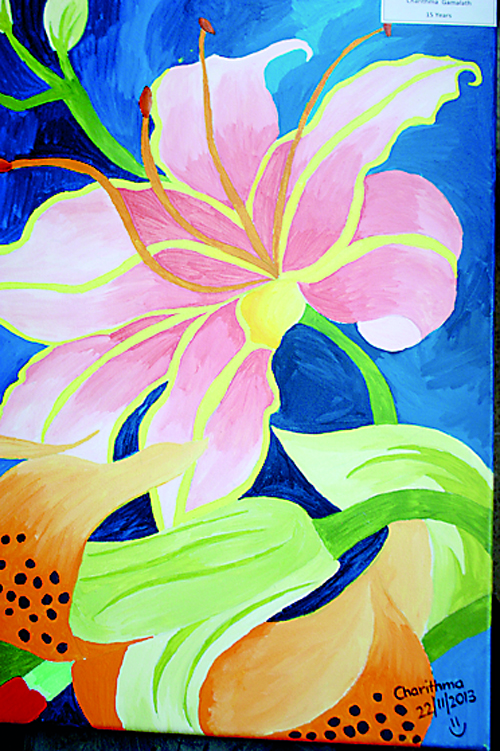 Knowing she had a strong artistic voice even at a young age it was her teachers in Kenya at the Nairobi Academy who fostered her interest, excusing her from school work just so she could take part in art competitions and encouraging her to keep painting. With a supportive father who was willing to drive her around, at the age of 10 Kishani made appointments with hotel managers to design everything from menus to party hats. So it comes as no surprise that her work now sits on the walls of the hallways and lounges of Bandaranaike International Airport. "I took the job for the experience" she grins.
She also spent "about 20 years" away from the country, both as a student and during her husband's posting in Sweden.
Since 1988, in some capacity or the other she has been teaching art. Starting out as a mere pastime during the post- A Levels, her higher education was in the Open College of Arts Barnsley and she continued on to study 2D and 3D art at Cardiff Open University. Teaching in both Cardiff and back in Sri Lanka she then took a teaching course as well. Feeling that her interest lay in imparting knowledge she acquired from her teachers, she is adamant that lack of funds should not prevent talented children from getting the training they need. "I do sponsor a few of my students," she discloses. Out of the 26 showcasing their work, "I would say about 12 are sponsored." Proceeds from the exhibition are in aid of these sponsored students.
Art-Fusion – the work of 26 of Kishani Wikramanayake's students will take place on September 8 at the Bougainvillea Ballroom, Hotel Galadari, from 12 noon to 5 p.m.
Tickets at the entrance are priced at Rs. 100.