Floating back to an older, gentler time
View(s):

If the words 'floating market' bring to your mind images of boats laden with produce and frenetic commerce being conducted on busy waterways, you might be in for a bit of a surprise at the Pettah floating market, which was opened to the public on Monday, August 26.


Located a short walk away from the Fort railway station, along the banks of the Beira Lake, the Pettah floating market is not quite a mobile shopping experience in the vein of the famous Chao Phraya floating market in Bangkok. Instead, it features floating pavilions dotted with vendors selling fruits, vegetables, toys and knick-knacks, and a covered walkway lined with shops offering everything from imported fruit and export reject clothing to knock-off DVDs.
Apart from the usual Sri Lankan market finds such as avocados, woodapples, leeks and pickled ambarella, the pavilions also offer unusual treasures: we found tiny, fruity red chillies to add some subtle heat to a seafood ceviche and large limes that are perfect for pickling. The walkway stoked our nostalgia for an older, gentler time, when a family outing meant indulging in uncomplicated pleasures such as cream soda and Fanta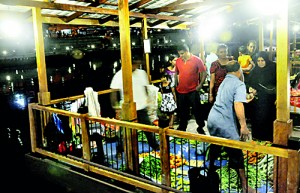 in vintage glass bottles, with a bit of bargain shopping thrown in for good measure. We couldn't help but stop by for a quick kotthu snack at the tiny eatery that euphemistically calls itself a 'food court' and quench our thirst at the 'Floating Point Cool Spot'.If there is anything we missed, it is seeing a selection of the country's handicrafts or souvenir-worthy local produce such as organic spices and Kithul jaggery, which would definitely add an element of interest to tourists.
Bazaars are beloved the world over for fostering a sense of community and rekindling our affection for a good bargain. If you aren't quite willing to hotfoot it to Pettah's bustling by lanes in search of value-for-money shopping, however, the floating market offers a convenient – if slightly sedate – alternative. While staying decidedly moored to land, it gives visitors a microcosmic taste of the sounds, colours and flavours of the historic district in which it is located.
-Vindya Rajendran