Appreciations
View(s):

Ranjani de Silva

A dedicated professional with complete integrity

When the news came to us on that cold rainy morning of Ranjani's passing, we felt again that sheer sense of loss and pain that we have always felt when very dear friends leave us, friends who have grown into our lives over the years, in this case several decades, to become an important, even very necessary, part of our being. We had, of course, known about her very upsetting problems of health during the last two years or so of her life, when she became bedridden and utterly helpless and dependent, unable to do anything for herself and only too aware that things would never again be for her as they had been before. During those very difficult times, Leslie's selfless devotion to her would certainly have reached through her suffering to make her feel how blessed she was to have such a loving companion.

We recalled our first meetings with her more than fifty years ago in Peradeniya. She was at the time Personal Secretary to Sir Nicholas Attygalle, the then-Vice Chancellor of the University of Ceylon as it was then known, a position she had come to occupy when she was very young. She was, as we affectionately remember her, a little person – little, that is, in her physical stature. But to meet her and to get to know her was to carry away the impression of a person of great stature, a big person.

As we were soon to find out, Ranjani was the best Personal Secretary Sir Nicholas, or any Vice-Chancellor for that matter, could have hoped to have had. She was one of those rare people who took great pride in whatever it was that she did, and set the highest standards for herself. Her efficiency, competence and practical organisational skills were legendary, as were her total dedication to her work, her extraordinary conscientiousness and her commitment to perfection in the discharge of her duties.

Hers was, moreover, a job that demanded a strong sense of responsibility and immense trust-worthiness, as well as complete integrity. For she had immediate insider access to the most confidential of matters involving whole large sets of both very important issues of policy, administration and so much more, as well as very important people both within and outside of the University. On those counts, she was absolutely faultless, winning universal respect and admiration. During the long years we have known her, although we were very close indeed to her, she never ever, even long after she had retired and lesser people might have felt that it would no longer matter, breached the trust that had been placed in her – those were her secrets to safeguard and she safeguarded them until the end of her life.

But that was not all. During the discharge of her duties, she, as the main channel between the Vice-Chancellor and the myriads of people from everywhere who needed to meet him, had to deal with all kinds of individuals and groups and all kinds of situations. This made the PR aspect of her work very important, even more so because Sir Nicholas, often seen walking around unsmilingly with his big cigar stuck in his mouth, was quite a formidable character, quite intimidating, even often quite short with people and dismissive. Ranjani's instinctive gift of making you feel that she was actually paying attention to you as a person, and to your problems, helped compensate for a lot of this. But what made an even bigger difference was her natural cheerfulness and her openness to people. All of these helped put a pleasant human face to the high office of the Vice-Chancellor, and we have no doubt that it would have helped make the social interaction dimensions of Sir Nicholas's job much easier and smoother.

It is well known that Sir Nicholas held her in the highest regard, and also that he had real affection for her, so well had she managed to penetrate that rough exterior of his and touch his more benign self – which might explain why she seemed to be one of the comparatively few of our age at the time who were not even in the slightest frightened of him. And of course, as far as the rest of the people she needed to deal with, they invariably went away with a lot of respect and admiration for her.

But there are other things too about Ranjani that we must not fail to recall. She had a great and genuine love of music. The violin was her forte. In her younger days, at the age of 17 she had obtained the Students Senior Division in Violin with Honours at the Trinity College London examination, while at the age of 18, she had passed the Final Grade in Violin at the Royal Schools of Music, UK. She loved playing the violin, and was good enough at it to perform in public.

But there were other things too, reflecting other qualities and other skills. She was an excellent cook, and many are the very tasty meals we have enjoyed at her home. Her interest in crochet and embroidery expressed itself in many highly imaginative creations, several of which she had shown Indranee, even giving some of them to her as gifts. We were also drawn into her interest in stamps, being commissioned by her to collect certain specified sets of stamps to add to her collection. In addition, Ranjani also had a deep and tasteful interest in gardening.

And so we said goodbye to her, a year ago, on July 30, 2013 in Sydney. May she attain Nibbana.

-Thiru and Indranee Kandiah

Dr. A.C.S. Hameed

He built bridges between communities

September 3 marks the 15th death anniversary of Dr. A.C.S. Hameed

He represented the Harispattuwa multi-member constituency which is second to Colombo Central from 1969-1999, a rare distinction for a Muslim Parliamentarian to represent a Sinhala Buddhist majority electorate.

He was appointed as the Minister of Foreign Affairs in 1977, a portfolio which was held from 1948 to 1977 by the successive Heads of state.
He was Minister of Foreign Affairs till 1989 under President J.R. Jayewardene and thereafter Minister of High Education and also Minister of Justice till 1993 under President Premadasa. From 1993 to 1994 he was re-appointed as Minister of Foreign Affairs under President Wijetunga.
He had an exquisite power in negotiation on any table and from 1984 to 1999 he took a keen interest and tried hard to bring a solution to the ethnic problem of our country.

As Minister of Foreign Affairs and also as representative for President J.R. Jayewardene as president of the Non-Aligned movement, he travelled across the world to meet leaders of practically all the countries and interesting people from all walks of life.

He was a good listener.

Though in his position as Foreign Minister he had to travel very often, he did not neglect his constituency and the voters. He knew his priorities in his constituency: Harispattuwa, a backward electorate in the Central Province became a modern electorate in the 80's with roads connecting 192 villages, electricity to all the villages, water from 1000 tube wells and latrines for all the houses. Double storey school buildings were built in every one of the schools and he found employment for nearly 1000 teachers, employment for others in the Railway Department, Agricultural Department, Harbour etc.

He found jobs for hundreds of girls in the Free Trade Zone in Katunayake, employment for men in the Middle East and was one of the first to persuade a garment manufacturing firm to set up a factory in Akurana, outside the Free Trade Zone .

Whenever the ugly face of communalism emerged during elections, he had the confidence that he would win in the correct way. The credit must be given to the Harispattuwa Buddhist voters that this electorate practised true democracy by voting for the correct person not for his religion but for his efficiency and intergrity.

During the 1994 general election, we were visiting all the polling booths in Harispattuwa, and at one polling booth, there were lots of women coming out after casting their vote. Dr. Hameed asked one of the old women, "Ammey chandey dammada"? She answered "Aow Mahaththaya." Mr. Hameed asked "Katada chandey dammey"? "Hemadaama wage ara Thambiyata thama," she said. Mr.Hameed laughed and said "Apith eyata thama." What a jovial and brilliant way of appreciating her words.

Immediately after the general election in 1994, the Seemamalakaya which he built at a cost of Rs 48 lakhs for the Amarapura Nikaya was to be declared open but some of the opposition supporters did not want Dr. Hameed's name on the plaque. Mr.Hameed said, "I did not build the Seemamalakaya to put my name in the plaque. I am happy I was able to complete it before the change of Government." Ultimately he did not want his name to be put in the plaque.

After his death the Buddhist people of Harispattuwa conducted an all night Pirith at Katugastota Baudda Bala Mandalaya on Ranawana Road which he built and had a dana for him. The following day, 77 Buddhist priests were present at the dana. There were 108 Ata Pirikara presented by Buddhists. This function was historic and probably the only one which was performed on a non Buddhist in this country.

One of the most touching sights at his funeral was some of the Buddhist priests crying after seeing his body. He built bridges between the Buddhists and the Muslims of this country and touched the hearts of the people.

Some politicians build monuments of gratitude out of good deeds they perform during their tenure of office.
May he be in Jennathul Firdouse, Aameen.

-A.C.A.Ghafoor

Dr. P.M. (Sydney) Jayawardena

A kind, considerate and skilful surgeon

My friend Sydney was born in 1921 into a large family. They lived at Station Road, Wattala and Sydney had his education at St. Joseph's College, Colombo and did his London Matriculation. As university education was expensive at that time, he got employment in the Colombo Municipality and worked there for three to four years. Eventually he entered university much later than others and qualified as a doctor in 1950.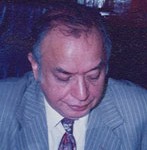 He was two years senior to me. However we came to know each other very well when we both went to Liverpool for our post-graduate studies in 1957. We had our training in the Department of Surgery in the University of Liverpool under Prof. Charles Wells. We got through our fellowships in 1958 and he came back to Sri Lanka while I continued my training in OBGYN in Liverpool.
Sydney married Doris, the sister of Fr. Tissa Balasuriya, the famous theologian, Rector of Aquinas University College and Director of Centre for Society and Religion at Dean's Road, Maradana. They had their first child in Prof. Jeff Coate's unit by Caesarian section and I named the boy Kithsiri .The brand new Ratnapura general hospital was opened in 1960 on the top of a hill with all modern facilities and there were nice quarters for the consultants and the other staff. He was the second surgeon to go to Ratnapura in 1960 and I joined him there in 1962.
In January 1964 he and I were appointed to the General Hospital Badulla where we served for four years. During this time Doris became pregnant for the third time and I had to look after her in Badulla. She was adamant about having a normal delivery as she had three previous surgeries. She had implicit trust in God and I too accepted the challenge to deliver normally with much trepidation, but trusting in God, although no obstetrician would try to deliver normally after two CS. By God's grace I managed to deliver her normally without any complications and I named the son Laksari.
After four years Sydney and I worked in Colombo South Hospital in 1971 and I retired prematurely from government service in June 1972 with the abolition of private practice by the government. Sydney also followed me later.
Sydney had a very good practice in Colombo. He was a very kind, considerate and skilful surgeon.
During the last three or four years he left his residence at D.S. Senanayaka Mawatha and lived in an apartment at Dharmapala Mawatha. He was a staunch Catholic and attended services at All Saints Church Borella. He was very much involved with the St. Luke's Guild of doctors and was its president for three years.
He was also President of the College of Surgeons of Sri Lanka.
I had the privilege of delivering all his grandchildren, two of whom have followed their grandfather and become doctors in Australia.
-Prof. Wilfred Perera
Nissanka De Mel
A brilliant man and trusted friend
The news of the sudden demise of Nissanka De Mel came as a shock to all those who knew him intimately. On the morning of the day of his death, Saturday, July 16, he was attending the 20th Annual General Meeting of the Coconut Growers Association, an organisation he was actively involved in, mixing freely with the fellow growers, active in discussions with never an indication of any illness
Nissanka had his early education at Royal College and proceeded to England for an engineering degree at the Imperial College of Science and Technology, the University of London, one of the most prestigious institutions in England for engineering studies. After completing his degree, he moved to the field of Finance and Accounts and qualified as a Chartered Accountant (England and Wales). Such action was perhaps exceptional three decades back.
On his return to Sri Lanka, his expertise in the two fields of engineering and finance was recognised by his appointment as the Financial Co-coordinator of the Mahaweli Develpment Authority, the apex body handling Mahaweli Development at that time. From there, he moved to the corporate sector, functioning as Director in a number of organisations. Despite these academic and professional achievements, the subject that was close to him was coconut, a trait he had inherited from his ancestors, who were in the forefront of developing coconut plantations in the country.
On his return from England, he found the 50 acres of coconut land he had inherited was in tatters, the coconut trees were old, and the coconut production was minimal. He commenced re-planting the whole estate in stages and in around 25 years, he was successful in producing an estate land, where the annual production of coconuts matched the best in the country. With this interest and achievement, it was natural for him to join the Coconut Growers Association of Sri Lanka, and he was soon elected to the Executive Committee. His ability was soon recognised and he held various offices in the Association, culminating as Vice President. Though the membership was keen to have him as President on many occasions, he always declined it. He shunned the limelight.
His interaction with the coconut growers and the institutions within the coconut industry gave him the ideal platform for him to advance constructive proposals for the promotion of the coconut industry, which was an extension of what he himself had practically achieved. Few growers had so much data on seasonal and annual variation of nut production, monthly rainfall and income spreading over a period of 25 years. He often used these statistics supplemented with what he could gather from fellow growers and institutions connected with the coconut industry to compile reports and technical papers aimed at the achievement of self-sufficiency in domestic and industrial needs of coconut. His presentations were highly informative, meticulous and intellectually of a high standard. He illustrated his submissions with tables and graphs and derived conclusions which only a person with his educational background and training is capable of.
The main thrust of his presentation was that to enhance national production, priority needs to be given to replant vacant stands. His argument, which he illustrated with statistics, was that the country's one million acres under coconut is effectively equivalent to only 75% of the extent if weightage is given to vacant stands and also to commence the replanting to replace old coconut extents, progressively over a planned period.
It is heartening that the Authorities have begun to work towards this end. A few months ago, he was appointed to the Board of Directors of the Coconut Cultivation Board (CCB). During the short period he religiously pursued the implementation of these two proposals. Those in the Board are aware of the dynamism with which he pursued his proposals. Sadly this was not to last long. It is hoped that the CCB will work with same zeal exhibited by him
With the demise of Nissanka, the coconut industry lost a brilliant man and others a rare and fine human being. The writer will miss a trusted friend, and the valuable conversations we often had on the phone.
-Denzil Aponso
Kamalini Wijayatilake (nee Wimalachandra)
Multi-faceted, multi-talented mother 
It has been ten years, a decade already. After a brave battle with the terrible disease that is cancer, she took her last breath on July 10, 2004.
She didn't want to leave us; we didn't want her to leave. I would rather say she was taken, fighting gracefully…if there's such a phrase.
How does one write a tribute that will do justice to the person that was your mother? The person you partially owe your very existence to.
She was a multi-faceted, multi-talented individual. A lawyer, researcher, counsellor, feminist, pioneer gender trainer, activist, author, a sought after expert in her field, a daughter, a sister, a wife and a mother.
Kamalini was born on August 16, 1953 to a loving and erudite family. She was fondly called 'ranputhi' (golden child) by her father who simply adored her. She was indeed a 'golden child'. She not only lived up to, but most often exceeded her parents' expectations.
She did ballet, painted, sculpted, acted, debated, sang, played several musical instruments – the piano, clarinet, cello and flute, and was a girl guide, to name some. She also mothered her three younger siblings, and my grandmother depended on her so. My uncle and my aunts have many fond memories of my mother at 'Sriyani', Hokandara – their homestead.
A senior prefect at Visakha Vidyalaya, she went on to skip two grades like her father. She was to be conferred the head prefectship but my grandmother, a teacher there at the time, refused, afraid of anyone thinking my mother was being given preferential treatment. A story not known to many. I could sense in my mother that she would have preferred the decision being left to her, instead of having it made for her. She was however very happy about someone else getting that honour. Such was the humble upbringing she had.
In 1973, scoring the highest marks in her batch, aged 20, my mother passed out of the Sri Lanka Law College as a Proctor/Advocate, and had to wait a whole year to take oaths, as she was considered underage at the time (which became a special issue to be taken up by the Supreme Court).
She married her Law College sweetheart in 1979, after a long courtship. She and my father were very different, she being the introvert to his outgoing personality. She said they balanced each other out very well, and hoped my brother and I would find in our future spouses, an equal partner such as she had done. My father loved her and she was able to achieve what she did, partly due to his constant support and encouragement. They celebrated their 25th anniversary days prior to her passing. My brother and I had a very stable, progressive upbringing, rooted in good family values and faith.
Having practised for seven years, she gave up what would undoubtedly have been an illustrious career at the Bar, around the time I was born. She was involved with the Sri Lanka Women Lawyers Association, went on to co-found Women-In-Need, was a Board member of the Centre for Women's Research (CENWOR), Environmental Foundation (EFL) and was a legal and gender consultant to numerous local and international organisations such as the ILO, HIVOS, UNFPA, APWLD, and a gender trainer to several grassroots organisations as well. I recall us kids tagged along with her to WIN, CENWOR, and Kantha Handa taking our colouring books, waiting for her to be done with her work. It was quite common for my mother to travel all over the country, helping, supporting, empowering women, but she hardly came under the spotlight and shied away from it even when given an opportunity. To quote a very close friend of hers "Kamalini's contribution always remained hidden from the public canvas, but was always felt in the most profound way by all those she came to know."
None of these roles or positions were as important to her as that of being wife and mother. She always, always made time for my brother and I. Looking back at my first public performance at the Lionel Wendt theatre (I had two whole speaking lines), there she was at the end of the show, in between her meetings, with a bouquet of red roses and an encouraging note, saying how proud my father and she were of me. She made my drama costumes, helped me with my debate topics, school projects, sewed me pretty clothes, and along with my father carted us to and from our various extra-curricular activities, mostly during rush hour. Even during her chemo sessions, she went for my brother's regattas, and loudly cheered him on from the pier. She helped me study for my finals while lying in bed just a few months prior to her passing. She was always there for us, even towards the end while fighting the constant pain.
She was big on communication between the four of us. We were not allowed to shut our room doors, when we were not studying. Her point was that it was a sign we were shutting them (our parents) out and that was simply not acceptable. We were constantly encouraged to talk about school, 'crushes', various interests or even how our day went.
My brother and I received our respective degrees a few weeks after her passing. We tearfully hugged each other knowing that we would not be able to share our accomplishment with her. It was to be the first of many milestones in our lives she would miss. I missed her when I moved to Boston, at my wedding, when I became pregnant, and at the birth of my son. I'm glad she knew and approved of my relationship with my husband.
No amount of words can express how much I miss her. Every day I see a bit of her, when I look at my son, who has the same dimple under his left eye just as she did.
Her gentle manner, kind heart and generous spirit endeared her to all, irrespective of status, class, gender, creed, sexual orientation or religious affiliation. She was strong in her faith and a true Buddhist in the sense that she followed the middle path in life and was accepting of all creatures with no labels attached. She was a friend to many. But most of all, she was my father's world, my brother's advisor and confidante, and my 'best' friend. Our safety net.
In our eyes she was and always will be super woman. A person I can only aspire to be. The smart, kind, gentle but firm, strong, brave and pretty-much awesome-at-everything mother and friend.
She would've hated having her virtues extolled in public like this, but I cannot help myself. It has been a decade. I miss her.
May her samsara be a short one and may she attain Nibbana.
-Chamindri W. Aluwihare