Kandyan history entwined in Mauritian mystery
View(s):

Readers in Sri Lanka have to be grateful for the serendipity that brought a medical professor from our island nation to the island of Mauritius [via the island continent of Australia]. This is a truly amazing book. Professor Bandaranayake's chance 'discovery' of Ehelapola's tomb, while leading an Australian medical mission in Mauritius, so enthralled him that he embarked on a tortuous investigation into the fates of the many Kandyan freedom fighters imprisoned in Mauritius, by the British conquerors and their ill-fated struggles that led them to exile. The author has set about his 'crusade' with the meticulous scholarship of a true academic who has shown great courage by venturing into disciplines far removed from his own field of medicine. These two fields are those of Kandyan history and archival investigation.

The writer's chance discovery of Ehelapola's tomb sparked an intense interest in the fate of this noble exile in Mauritius – which led him to unearth the history of several other Sinhala State prisoners and convicts who had also been 'transported' to this recent [ former French] British possession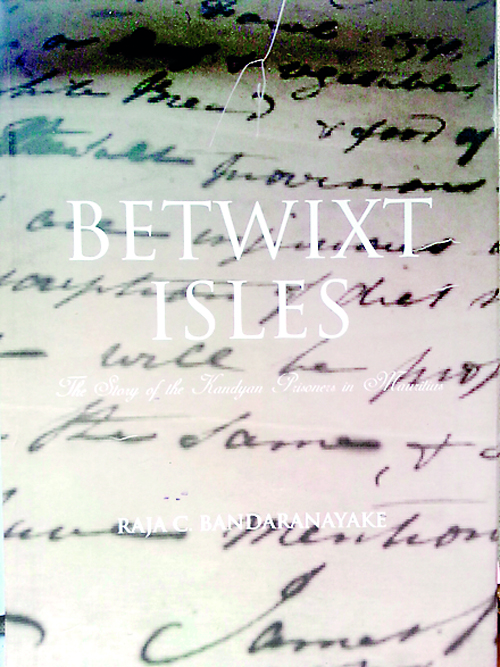 Fully half the book is a well researched account of the last days of the Kandyan kingdom, betrayed by ambitious aristocrats, and the ill-fated anti-British struggles of motley bands of freedom fighters. It is this latter group that were executed, imprisoned or exiled to Mauritius. It is a sad chronicle of ambition and treachery cunningly exploited by the British conquerors [whom the writer mildly labels 'interlopers'] .
Ehelapola is the 'Hamlet'of this narrative. He is the aristocrat who had no compunction in betraying his anointed sovereign or abandoning his family to the harsh penalty of Sinhala law. The British never seemed to have really trusted this dubious character. He was housed in Colombo for a few years, banned from ever visiting Kandy, and permitted to contract his second marriage. He was considered a 'time-bomb' and deemed to be safer [for the British] to have him far away in Mauritius where he could not be up to any 'knavish tricks'.
I cannot recall any of our historians spending time on researching the fate of the Kandyan prisoners after they left our shores. Raja Bandaranayake has now filled this blank space in our history. He has identified the individual prisoners, the 'class' the British assigned to them and the appropriate accommodation allocated them in the old gunpowder magazine that was their prison. It was a motley crew ranging from aristocrats such as Pilima Talawa (Jnr), Matatamagoda,Kempitiye and Wattawe, the ex-bhikku Ihagama (see Postscript), and the Nayakkar Pretender Coomaraasamy who were State Prisoners. There were also the common or garden convicts convicted for 'unlawful killing among them Kiria Naide, Nial Gullia(?) Lokuralle and his wife Hude, and the sole Eurasian John Herman Maas. Most of these were assigned hard labour on roads from which quite a few managed to get exemption
The author goes on to describe the conditions (rather lax, it seems) in which the prisoners were held and the different regimes they were subject to by Superintendents as Stewart, Bates and Latham. It is a matter of amazement that the prisoners' dietary needs were given some consideration by shipping them coconuts and betel from Ceylon. The aristo Mattamagala was even issued 'fowl' and (believe it or not) bottles of claret! The pre-Victorian attitude of the British authorities towards the State prisoners can be seen from the fact that Ihagama, Godegedera and Wagodapala had relationships with 'free' (not slave) women by whom they even had children. What is most interesting is that when these men were being repatriated to Ceylon, all three women refused to accompany them to a fate unknown in a strange land. Therefore, there has to be a strand of the Kandyan Sinhala in the bloodstream of a few Mauritians. This may, perhaps, explain the mysterious offerings yet found at Ehelapola's tomb.
Ehelapola was the only one who was no prisoner but an exile. He was allocated his own house [located by the author after painstaking research]. His second wife, however, did not accompany him to exile. But he was allocated his personal interpreter Don Bastian and other staff, among them some fortunate Sinhala prisoners of low standing. The quality of the garments imported for him and the unique privilege of a horse-drawn carriage naturally led the British community to call him 'Prince'. He was a popular guest at their soirees and whist parties. It was a well-cushioned exile. However, Ehelapola was a realist and never expected to return home. He wrote his will and gave detailed instructions as to the inscription on his tombstone – which were duly carried out.
Professor Bandaranayake has gifted us with a hitherto little known chapter of the post-1815 freedom fighters and their fate. It is a clearly written narrative, free of scholarly jargon and a work of monumental research.
POSTSCRIPT – Ihagama, the former bhikkhu, was an unrepentant freedom fighter. He had learnt French while in Mauritius [till recently a French colony] and, after his return to Ceylon, played a key role in "the 1834 Rebellion …led by First Adigar Molligoda and Dunuwille Disava….. French assistance was sought since Britain could not be ousted without French assistance. Ihagama and Pilima Talawe had returned from Mauritius in the 1830s having made useful French contacts there [but] the authorities were alerted " (Kamalika Pieris). Alas, Ihagama's bold but Quixotic attempt was doomed by treachery.
Book facts
"Betwixt  Isles"  by Raja C. Bandaranayake . Reviewed by Tissa  Devendra. Published by Vijitha Yapa Publications