Letters
View(s):

Study in contrasts: Kadirgamar and our present-day envoys

The recent Sunday Times article on late Mr. Lakshman Kadirgamar is both timely and thought provoking. It is timely, not only on account of  his death anniversary which  falls in  August but more importantly, in view of the quagmire  Sri Lanka finds itself presently  in the sphere of diplomacy and foreign affairs. It is thought  provoking on account of the manner in which our diplomats and Foreign Ministry are  operating under international scrutiny on Sri Lanka,  a far cry from the way he would have operated in dealing with such issues.

That he was of the highest intellectual and professional mettle is undisputed,  even by  his adversaries and so was his integrity. At a time when hardly any politician is without accusations of corruption and dishonesty,  he  was "the untouchable".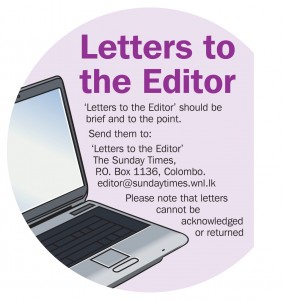 He took the helm at foreign affairs at a time, just as  now,  when Sri Lanka was under international scrutiny on alleged human right violations both in the  South and  the North.
But the difference then, as opposed to now,  was the professional, diplomatic  and tactful way Mr. Kadirgamar approached the issue, mixing his ardent defence of the motherland with the perception of objective reality in face of evidence of violations and  the acknowledgement that it was imperative to address them in earnest, in order to avoid such scenarios in the future. That is where he managed to keep his credibility intact in the eyes of the world, without denying altogether any violations but rather explaining our side of it without being perceived predisposed.
Of particular importance was the speech he made at the UNHCR  in 1995 which was resounding. In that historical speech, he highlighted the commitment shown by the then Government and the desire to soldier on in the same direction of peace and reconciliation, not at the expense of one group or minority but with the consent of all sections of society. That was why he was able to convince US, India and European countries that LTTE was a terror outfit and get it banned.
He had the ideal background and the best grooming perceivable for this most challenging task given his stints with international organizations such as ILO and Amnesty International, among many others. Of particular note was his commissioning by Amnesty International to look into the Buddhist resistance movement in South Vietnam, way back in 1963 and the ensuing report was the first ever done for Amnesty International in relation to a single country. From all these, it was unmistakably clear that  protection and recognition of the  fundamental rights of citizens  in line with globally accepted standards was not something artificial and alien  but  something of  a second nature to him. For him international organizations and institutions and well as foreign states were not downright hostile elements but part of the international community where he sought to represent Sri Lanka as a force to reckon with.
One feels that is where our present emissaries to foreign lands are found wanting , so unfortunately, to the country's detriment. They lack neither the intellect nor the integrity that Kadirgamar had in abundance, every ounce of which he employed for the benefit of his motherland!
Sanjeewa Fernando Via email
Madness rules our roads as police look away
Today, the death toll caused by negligent motorists on the road is growing by leaps and bounds.
Why can't there be more discipline implemented by the Police who are located at strategic points on any road – islandwide?
Recently, my drive up to the salubrious hills of Nuwara Eliya became a total nightmare and it was the same driving down to Colombo. Crazy bus/ coach drivers take great pride in flying by blind corners at a "breakneck" speed. Or, for that matter, those who drive the luxury large SUVs and the likes literally tend to push you off the road! Many an occasion I was compelled to pull to a side and catch my breath! Never mind the beautiful views and stunning scenery that came with it.
I met many policemen on the way stopping a motorcyclist or a driver who might have just crossed a middle white line only because he chose to overtake a belching lorry that was ahead of him! This happened to me a few times too, when I finally was able to overtake a similar vehicle that was finding it hard to climb.
Accidents, accidents and accidents are caused a dime a dozen on a daily basis. Had there been more stringent rules and regulations on driving speeds, adhering to road rules, road etiquette, stopping at roundabouts giving way to those on the right these might have been averted.
Another sad situation in the country is that many traffic lights are not switched on at night. The traffic light at the turn off to Nawala from the main dual carriage Parliament Drive is always off! Why? A few nights ago, where Flower Road meets Dharmapala Mawatha, a near accident happened where someone driving a beautiful BMW sped across from my left leaving me aghast with my three passengers in my vehicle!!! I stepped on my brakes so hard; it swept my passengers off their seats, they had to grab the seats in front of them! The other drivers who had stopped and rightfully so had their hands on their faces in shock – as this was as close as an accident that might have occurred – at no fault of mine!
Why in heaven's name are the traffic lights switched off as early as 10.30 p.m. at such a heavily used junction? Why? Why should traffic lights be switched off anyway?
Another scary roundabout ironically is the one at Kanatte, where one green light allows you to proceed to Kynsey Road or to take a left turn at Gregory's Road and the light on the left at the same time also allows motorists to head towards the turn off at the Raymond's Parlour. Probably a good way to take you directly to these parlours!
Three wheelers overtake from any side; the same with buses who swing to your right disregarding your place in that line only to swing to the left at the next bus halt barely 200 yards away. Can none of these drivers be brought to task?
Is there anything that can be done about the above?
Yasmin Cader
Via email
Save Wilpattu before it's too late!
On a recent visit to Wilpattu National Park (August 1-3), we travelled upto Kudiramalai Point and then southwards along the coast. Parallel to the old Puttalam-Mannar road which is yet a sandy jungle road, a huge, one hundred foot wide swathe of jungle had been cut alongside the coastline, ostensibly to build a highway to the north and for security reasons during the 'war' days. (See photo)
We drove south along this wide 'highway' with great difficulty using 4-wheel drive and low gear most of the way due to the red sandy soil (Red Latosols) which had formed large dunes in some places due to strong coastal winds during the dry season (July-August). This is the fine red soil supposed to have been noticed by and commented on by Prince Vijaya when he landed near Kudiramalai point around 2560 years ago.
The coastline is an elevated cliff which is around one hundred feet or more above sea level, with the shallow seas of the Portugal Bay below this steep cliff. The distant islands of Battalangunduwa at the tip of the Kalpitiya peninsula are clearly visible in the far horizon. The area is open scrub jungle with dry, low thorn-forest on the interior which had been bulldozed alongside the coastline to form the 'highway'.
We could not travel the entirety of this 'road' due to deep sand. To construct a proper highway, it would cost billions since the underlying soil will have to be thoroughly reinforced to prevent sinking due to the extremely deep sand layer. In fact, I remember that a similar idea of extending the railway line from Eluvankulam to Mannar in the late 1960's, was abandoned due to this problem.
The destruction of Wilpattu National Park due to this scheme is enormous. I do not know whether the government will go ahead with this hare-brained project. At the moment it looks abandoned, with some thorny scrub sprouting up through the arid sandy wasteland. If left alone hopefully the jungle will regenerate, but for the environment to normalize, it would take several decades. I hope all concerned, especially our environment groups and societies will keep an eye on this area and keep close tabs on future developments. The media (especially newspapers and TV) has an immense responsibility and should make it a point to highlight this destruction on a regular basis and see that any surreptitious moves to restart the project are exposed and prevented.
In addition Wilpattu, our largest National Park originally called a 'Game Sanctuary' in 1909 and declared a National Park on February 25, 1938 by the British colonial government, is being threatened by encroachers from the northern end (Mannar District). Vast numbers of Muslims are being illegally settled by unscrupulous politicians/ministers inside the Park boundary and in the adjoining Musalai Division forest reserve (Forest Department). This was highlighted in the Sunday Times as well as in several other Sunday newspapers some months ago. There were strong denials by the Ministries and officials concerned. Buddhist organizations and environmental groups that went there and protested were labelled 'racists' and 'extremist'.
It was shown that many of the political settlers were residents of Puttalam with businesses and housing there, but encouraged by politicians to squat within the forest reserve. However, it was established that these were illegal settlers by the fact that the Wildlife Department and Forest Department filed legal action against some of these encroachers in the Mannar courts. It is obvious that political pressure will be brought to bear on these Departments by the Muslim politicians concerned, to drop these cases. It is now upto the media to highlight these destructive events.
Recently, environmental organizations too protested on the destruction of Wilpattu by the government (road construction) and by Muslim politicians (illegal settlements). Encroachments in the Marichukaddi area, Musalai Forest Reserve and the Sannar Forest Reserve (Mantai Division of Mannar) were exposed. Our environment is far too precious a commodity to be bartered away for narrow political gain by unscrupulous politicians.
Cecil Dharmasena
Kandy
We need more humanity
The world today seems lacking in humanity. A human being's life is not valued. As a Muslim I'm aghast that a simple human need for a comfortable life is thought of as ridiculous. Persecution for the wrong reasons; innocent lives are tormented by racial and downright cruel governments.
Let Sri Lankans live the peaceful life we so desperately fought for and won. Let innocent Palestinians live a decent life in their God-given land! Allow people in the Ukraine to live peacefully in the homes they rightfully built. Egyptians deserve the freedom to practise a good and healthy life benefitting the whole community.
Let's combine our efforts to solve major world issues such as starvation, disease, rebuilding homes demolished by natural disasters, environmental problems… The list goes on. Let's live and let live!
Nabiha Abdul Karim
Via email
What about  Muralidharan?
Last week, A TV station announced that past cricket captain and head of the Selection Committee, MP Sanath Jayasuriya would take steps for the Government to issue a postage stamp in honour of star cricketer Mahela Jayewardene who retired from test cricket earlier this month.
The public would be happy if at the same time, another postage stamp is issued for Sri Lanka's world record holder, ace spinner Muttiah Muralidharan.
Why leave him out?
Upali Salgado
Colombo 3
Think compassionately and raise the rates
of Fixed Deposits
Fixed Deposit interest rates have declined to a low ebb. In fact, the rates now stand at a lowly single digit. This position is, by far, detrimental especially to those who have deposited their Provident Funds in Fixed Deposits, and the middle class citizenry.
To them it is a 'lifeline', and their expectations to receive a healthy return on their deposits have been thwarted, with no avail.
Another, salient feature is the cost of living which has spiralled to unsurmountable heights, not forgetting medical treatment and medication which are of paramount importance to those categorised as senior citizens.
To this end, I believe "compassion" is the veritable need of the hour. In a world where sustenance is so important and losers get rejected, forgotten and maligned, we need the reminder; people need compassion.
The Appropriation Bill prior to the presentation of the Budget by the President, is due to be tabled in Parliament shortly, and as such due thought should be given to increase interest rates on Fixed Deposits as it is mandatory to find solutions to problems faced by people vis –a –vis the medium of worthy suggestions prior to the presentation of the National Budget.
Quite naturally, peer interaction and reviews coupled with an atmosphere of critical debate, inoperative thinking and a quest for reasonable benevolence to our patient community will be a worthy and meritorious exercise.
The Government, on its part could incorporate the subject of increasing Fixed Deposit rates in the numerous programmes to be implemented with a view to providing concessions to the middle class and senior citizens of Sir Lanka.
The president's dream is to make our 'teardrop isle' 'the wonder of Asia'. Raising the quality of life and enriching the lifestyles of its citizenry (especially those in the twilight of their lives) will be a positive step in the right direction. A means of achieving this is to raise the current interest rates on Fixed Deposits to a reasonable and realistic level for the senior citizens.
Clarence Welikala
Via email