MAHELA – leaving a legend behind in the dressing room
View(s):

Now it seems that it was ions ago. I was at the Nalanda College pavilion at Campbell Place talking to a young cricketer who was full of

promise for the future. But, I was there talking to him about his ailing brother, who subsequently passed away.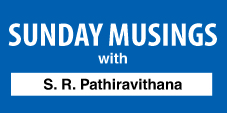 The cricketer was young Mahela Jayawardena who was taking the school cricket scene by storm with a flurry of runs. There while I was speaking to him, he said looking in to the distance –in spite of his love for cricket, the pain that his brother Disal was enduring at that moment was hurting him as much. But, believe me, I never thought, I would endure pain and loss to be mindful that the lad at that time, would walk down the turf for the last time in a few days hence to bid adieu to Test cricket as one of the biggest legends of the game ever.
The whole cricket machinery went to the extent of changing the venue for the second Test from the P. Sara Oval to the Singhalese Sports Club Grounds, his home turf, to tell him that the game of cricket respects him for his contributions.
For me one of the greatest moments that I would associate with him was his century against South Africa, a few days ago.
He was taking the Lankans away from a tight spot. From the moment that he arrived at the crease he was batting just like the teenager that my eyes captured decades ago. Even at the age of 37, he was moving in rhythm with the stuff that the Proteas had to pander. Yet, he was losing partners at the other end at an alarming regularity. Finally he found a willing partner in young Niroshan Dickwella who was playing in his first Test match.
After learning that Dickwella was ready to take upon a challenge, Mahela took control of the youngsters' inning. There was belief in the youngster's eyes. More Dickwella believed in Mahela's advice the more he believed in his own ability. The pace of Dale Steyn became a matter of fact. The duo batted in total harmony almost matching stroke to stroke at some points of their partnership. What more of a learning curve that a young lad playing his first Test match could ask for. At the end of the game, the youngster paid tribute to the legend in this manner, "If Mahela did not get run out, even I would have scored a century".
I see two plus points in that association. The first is what young Dickwella learned out there in the middle will help him to keep him in
good stead in future battles, for he had learned a few inner secrets in batting at this level of the game, courtesy Jayawardena. He was put in the deep end by the desperate selectors to face the best bowling attack in his first Test and he was baptised there in the middle just to do that by Mahela Jayawardena.
The second point is that if he ignites his career as an international cricketer with the weight of that inning, he would gain strength. Then someday, he too could become the unseen footsteps that would carry another youngster through the threshold of international cricket.
Jayawardena too came to the international turf in a similar fashion. That game was the most memorable innings that Sri Lanka ever played in Test cricket. When young Jayawardena went into bat against India at the R. Premadasa Stadium, veteran Aravinda de Silva was at the other end – batting late in his career looking for yet
another century. Though by then the Lankans were nearing the eight hundred run mark, the innings was still not over. Taking the cue from de Silva, Mahela batted with all the confidence in the world and opened his dossier with a half century to his credit. Like Jayawardena did with Dickwella, de Silva went on to complete another century that day. The Lankans finished their inning at 952 for 6 declared, a record that still lives on from 1997.
Yes, it could be considered a plus point for Jayawardena. His baptism to international cricket came in a dressing room that contained cricket personalities like Arjuna Ranatunga, Aravinda de Silva, Sanath Jayasuriya, Roshan Mahanama, Hashan Tillekeratne, Marvan Atapattu, Muttiah Muralitharan and Chaminda Vaas.
These cricketers began their carriers as semi-professionals. The remuneration that they received by indulging in the International cricket arena did not bring the cartful goodies like now. But, they were the bunch who torpedoed the entire cricketing world and brought home Sri Lanka's first World Cup. They knew how much it meant to them; how much it meant to Sri Lanka cricket and its future. They put value to their achievement and that gene was passed to their next generation of cricketers like Mahela Jayawardena to build on.
With cricketers like Jayawardena, the legend lived on. The achievements of their peers spurred them. They too kept their standards and goals in the top shelf and were not afraid to face fire with fire.
At the same time they were also mindful of their obligations to the future generations. That is why Mahela's generation did not compromise the achievements and their rights to the bullying officialdom. Maybe they became unpopular among some amiable individuals whose contention is to create a robot gallery of 'yes' cricketers. But, Mahela and co., I guess, have inculcated these values in the next generation of cricketers.
Mahela's cricket career could be written in two halves. In the first half of his international career, he spent accumulating runs. Yes, he may have scored more runs at home, but his class was never in contention. Never in his career, has there been a question about his class and ability even at times when he was short of runs.
The second half of his career was all about his leadership capabilities. Yes, like Dinesh Chandimal he too was once offered the vice captaincy a bit early in his career and soon taken off the burden. But, once he was given the reins he held tightly on to it. Arguably, Mahela was the best captain that Sri Lanka has produced in International cricket.
He captained Sri Lanka on two occasions and on both occasions he took the Lankans to the finals of an ICC World Cup.
The greatness of him is that, even after he handed over the crown to Angelo Mathews, Mahela kept guiding young Mathews at every turn. International cricket comes with a potpourri of matters to take decisions on. Even now we can see at the international stage how Mahela stands like a beacon.
Like all geniuses, Mahela has his own traits, but not off-handish. At the same time, he has the ability to call a spade a spade. If the officialdom took that as a drawback it is they who should feel sorry for themselves.
In India, we see their greats are kept in high esteem and even treated like demigods. Then even in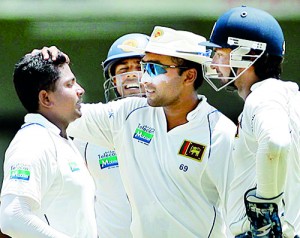 the Western world, all-rounder Ian Botham is Sir Ian Botham. But, in Sri Lanka, in spite of all his contribution, Mahela still has a fight at his doorstep – shooing away the little dirty flies that are trained against him by double-tongued detractors. Yet, the two boots that he is going to leave behind in the dressing room would be too huge for anyone to fit in easily. Yes, there would be someone who would bat at number four for Sri Lanka in the future and he too may score centuries just the way Mahela did.
But, no cricketer would be able to replace that in-depth knowledge of the game that he was ever willing to share and the camaraderie that he shared with those who were there present with him for nearly two decades of international cricket.