Taking risks and making strides
By Purnima Pilapitiya
Dedicated to helping students and youth alike, the Junior World Entrepreneurship Forum looks to nurture novel business idea and social ventures
View(s):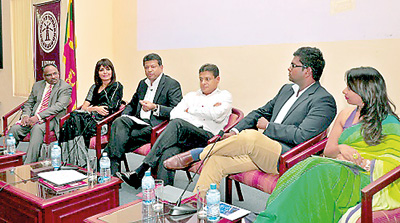 The auditorium of the Lakshman Kadirigamar Institute was abuzz recently as many enterprising young people gathered for the launch of the Junior World Entrepreneurship Forum. An initiative of the World Entrepreneurship Forum (WEF) – the Junior World Entrepreneurship Forum (JWEF) aims at integrating young minds into the global debate surrounding entrepreneurship. Dedicated to helping students and youth alike, the forum is spread worldwide with a network across five continents nurturing innovations and the best ideas for novel business and social ventures at a local and regional level with the support of its WEF family.
The forum was presented by the Sri Lankan chapter of the JWEF operated by the "Dirisaviya Foundation". The four-hour forum held the attention of the almost full house with veterans in the field sharing their own success stories and young entrepreneurs being given the opportunity to develop their skills and learn. The two sessions that made up the afternoons proceedings consisted of pioneers and professional from various fields- ranging from IT to design, advertising and marketing and education. Speakers included Dr. Chandra Embuldeniya; the Vice Chancellor and founder of the Uva Wellassa University and Chairperson of George Steuart Group Dilith Jayaweera. Discussing aspects of entrepreneurship from starting businesses to social entrepreneurship and the different perspectives on the subject for different sectors, the forum was an eye opener to the many hopefuls who left with a practical overall understanding of the field.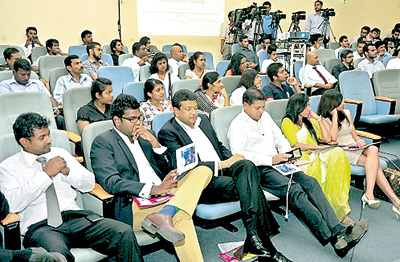 Leaning toward a more practical approach to entrepreneurship the speakers touched on various aspects and areas of the subject. Speaking on the topic of social entrepreneurship Dr. Vindya Ariyaratne; executive director of Sarvodaya equaled development to the awakening of economic, political, cultural and economic dimensions focusing his speech on a holistic take on development.
Appealing to the hopeful young entrepreneur "The Road Less Traveled" was Linda Speldewinde's area of focus. Talking about her own story as an entrepreneur, her inspiring story of following her dream while being enterprising was one that held the attention of the audience, as the founder and managing director of the AOD international Design Campus and more recently, the Sri Lankan Design Festival."Entrepreneurship is all about taking risks," said Dilith Jayaweera in his segment. Divulging his own success story, which began while he was still in university. His was a perspective of entrepreneurship from the side of the private sector, along with the realistic fears and obstacles any young hopeful faces along the way. Other speakers such as Anoka Abeyrathne, Andrew Jebraj, Sheran Corera and Sabreen Reffai; all living examples of young entepreneurs and founders of their own companies addressed the doubts and fears of their contemporaries from a fresh young point of view.