Still in sync
By Purnima Pilapitiya
After a five year hiatus Voice. Print will showcase their seamless harmonies at their full length show Sounds like: Voice.Print.
View(s):
It all started with a group of schoolboys sneaking into the school library to have a singsong session invariably and infamously being branded as "those choirboys". "I like to think that we made being a choirboy cool," smiles Michael Sathasivam. Many years and singing sessions later they did just that, making their mark in the local and international music field aptly called Voice.Print.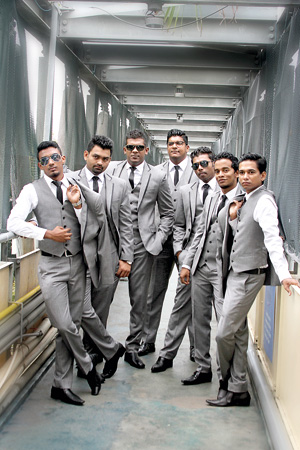 A lot has happened since they made a splash back in 2010 bringing home silver and a bronze at the World Choir Games. From stealing hearts with their acapella performances, launching the first Sinhala acapella song to their beat boxing, voice effects, not forgetting their dazzling showmanship has over the last few years made it clear that they are here to stay. Next Thursday their ardent fans are invited to a full length show, one after a hiatus of five years as they present- 'Sounds like: Voice. Print'.
Much has changed since half a decade ago. Some left due to the many responsibilities, jobs and family while a few new faces have since joined the group. Acapella is no longer the sole genre the boys perform, preferring to call themselves a 'band' of sorts with live music involved. Walking into their rehearsal last Sunday we caught them in mid song; harmonies in sync, seated in a semi circle outside on the verandah as comfortably at ease as though they were merely chatting on a Sunday afternoon. But make no mistake the last few weeks have kept the group busy with practices preparing for a full length show after so long. "We've performed a lot at corporate events these last five years," explains Naresh Sathasivam, who along with his brother Michael and Eshan Anthony were founding members of the group. Since breaking into the local music scene with radio favorites "Geyu Gee" and "Pem Lowey" their latest venture included a full campaign for a corporate giant in the local industry.
"I was classically trained since I was 10," says young Ryan De Mel. One of the newest and youngest additions to the group, who has fitted in with ease musically and otherwise. "I'm in a partnership with another friend," he tells us, playing at a few acoustic gigs. Despite having dipped his toes in classical music Ryan embraces any and every genre. A keynote about the group is their ability to sync together musically as well as otherwise which has been the anchor that has kept them together. "It's the unity and loyalty among the boys," Ryan divulges, as the best part about being in the group. The sole Thomian in the group of Benedictines he admires the fact they they've shied away from fame and money, holding steadfast to their musical roots and infectious happy go lucky attitude toward performing.
Even their audition was hardly a nerve wracking, intimidating encounter. Another newbie to the band Nicole Liyanage; "Brother Joe" as they call him remembers his audition as one of the most relaxed and unusual namely perhaps because it was in a parking lot. Hailing from St. Joseph's College Nicole was at their comeback concert a few years ago and has been a fan ever since. Another addition to the group the other Michael in the group; Michael Quyn has known the other members as his seniors in school.  As always the boys hope to be different. "Since we started we wanted to take it out of the traditional choir context," explains Naresh.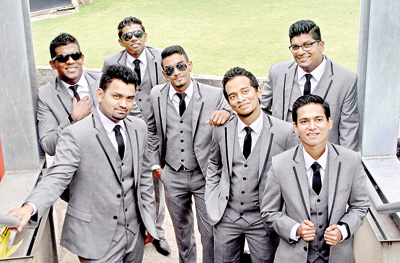 It's probably why the show will be at the Hilton rather than conventionally on stage, in a theatre. But then again the group has never been one to stand in a formation and sing, preferring to move around the stage, oblivious to everything but the fun they are having, which has reflected in their audiences over the years. This year too, they hope to have more than just toes tapping and heads bopping, thus moving the location to one where anyone can move their chair away and dance away if they feel like it. It also helps that they have a stellar line up of songs, ranging from songs by classic rock band Toto to acoustic and acapella arrangements of bands and singers such as Phil Collins, Michael Jackson , BoysIIMen, One Direction, Justin Timberlake and even folk ballads from Simon and Garfunkel and mashups of ABBA favourites along with a few Sinhala songs thrown into the mix.
They had to sit down about four or five times just to pick out their set list; picking and choosing from about forty songs. While everyone has a say in the music they pick, Eshan handles the choreography. "We don't stand in a group and sing," he adds, undertaking the task of coordinating the sometimes reluctant boys to follow dance moves. With only seven members, and one flying in only days before the show, everyone has a task to do besides singing. The group does their own arrangements, handled by Dilan Irugalbandara who is also the group's beat boxer. Since joining, Nicole happily steps in to help out with the music; an arrangement of his being performed at the concert. While Michael Quyn does his bit, coordinating the practices; usually in school or at someone's home.
Performing with their schoolmates and long times collaborators; The Rebels the show will also see a few surprise guest artists joining them for a few numbers. "It's not as easy as it used to be," admits Naresh, looking back on almost a decade of music making as a group, "mostly because we all have our own things to do now." However, this hardly seems to tire the boys as they hope to take their brand of music one step further. Voice.Print presents Sounds like: Voice.Print on August 14 at 7 p.m. onwards at the Hilton Colombo featuring The Rebels. Action stations and cocktails will be at the venue. Tickets priced at Rs. 2,500 and 1,500 available at The Commons, Bayleaf , Colombo Fort Café and Park Street Mews.