Ira Sevaya Rodney's role in the reel By Susitha R. Fernando
View(s):

Veteran journalist, lyricist, writer, and film and teledrama director Rodney Widanapathirana's latest film 'Ira Sevaya', depicting a social reality how the elite class tries to maintain its social status by joining the political bandwagon is completed and ready for release.

The film which was shot in Sri Lanka and the United Kingdom revolves around a wealthy aristocrat who dreams to enter politics despite opposition by his own family.  Nalaka Sapumal Bandara, (Wimal Alahakone) hailing from an aristocratic backdrop is having a complicated marriage life. The reason for this is his wife Yvonne (Maureen Charuni) who suffers from a permanent ailment. At times she gets mentally imbalanced and behaves strangely.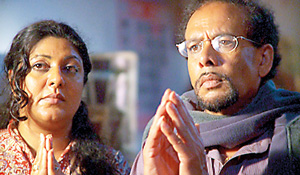 The biggest obstacle for Nalaka's dream to enter politics is his wife who strongly opposes it. However Yvonne commits suicide. Following this Nalaka decides to enter politics and he also falls in love with Lorain (Rebecca Nirmalee) who lives as a mistress of one of his own subordinates. But Nalaka finds that he suffers with a kidney failure and he needs to undergo a kidney transplant.
A young novice monk who enters Sasana agrees to donate his kidney to Nalaka. After the transplant Nalaka goes to London with Lorain and there they decide to make a considerable financial donation to the monk who now lives in a forest. Through this donation Nalaka's main aim is to become popular. But Lorain has separate plans together with her paramour. Unfortunately the monk who is determined to achieve greater spiritual heights in his life becomes a part of the wicked plans of Nalaka and Lorain.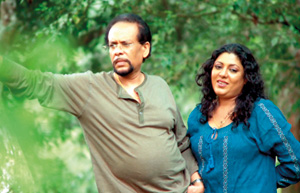 "My aim was to show the lives of people representing different social strata moving with the existing social and political system," Rodney said speaking about his latest attempt in cinema. "Ultimately both these sections of people suffers and meet a tragic ends," he added. The film is played by Wimal Alahakone, Rebecca Nirmalee, Maureen Charuni, Ishara Amerasinghe, Stanley Krisharathna, Gamini Samarakone, Tissa Bandaranayake, Wilman Sirimanna, Malani Kathirasinghe and Ranjith Ranasinghe.
Edited by Viranga Katapearachchi and Madura Prasad, musical score for "Ira Sewaya" is done by Manoj Peiris and art direction and make up by Ranjith Ranasinghe and Narada Thotagamuwa respectively. Kithsiri Jayasekara and Chandraratne Ileperuma sing the playback for the movie. Produced by Kanthi Alahakone, story, screenplay and direction is by Rodney Vithanapathirana.