CHC Institute of Hotel Management empowers youth
View(s):

Established as a CSR project under a concept formulated in the mind of the Chairman of the Galle Face Hotel Group Sanjeev Gardiner, the CHC Institute of Hotel Management commenced operations in October 2010. Affiliated to the National Apprentice, Industrial and Training Authority (NAITA), the course spans 12 full months broken up into 6 months of theory and 6 months of practical training.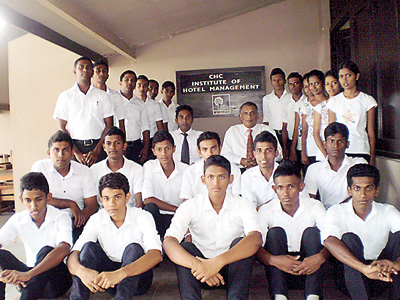 The course is carried out under the guidance and management of General Manager of The Safari, Deepal Amerasinghe. The sixth batch of 11 students completed both their theory and practical sessions in May 2014 and has now been placed at hotels within the group. The seventh batch of 23 students commenced practical training in June 2014 at The Safari Hotel, The Lake Hotel and Polonnaruwa Lake House. The latest batch of 25 students will commence training in Mid June 2014.
The course itself which is conducted free of charge also includes special English and IT lessons which are conducted by NAITA lecturers. Hospitality management sessions are conducted by a full time trained lecturer. The biggest advantage for students is that practical training is conducted in a live atmosphere within luxury hotels and supervised by qualified and experienced executives, thereby giving the students a thorough knowledge of the hospitality and hotel management trade.
Apart from the free sessions, the students, many of who come from financially challenged backgrounds and live in close proximity to the various properties, are also provided with free meals during the course and subsidized SLTB season tickets for their travelling. All students who complete the course are successfully given employment within the Galle Face Hotel group, and have the option of selecting their trade after the initial theory classes. Upon placement, the students are able to draw a substantial monthly income and often become breadwinners for their families.
The project which is carried out at a cost of 1.5 million rupees a year is an ongoing endeavour by the Galle Face Hotel group to not only uplift the livelihoods of those who live in and around its properties, but to also add employees of the highest caliber and expertise to the ever-growing tourism industry.