SLMUN marks 10 years
View(s):

Marking a momentous milestone in fostering youth diplomacy, the Sri Lanka Model United Nations (SLMUN) will be hosting its 10th successive conference which is currently underway, under the theme "Sustainability in Security and Sovereignty." Being one of Asia's largest MUN conferences, it is an entirely student led function and has allowed students to debate pressing issues, taking on new perspectives and building strong networks.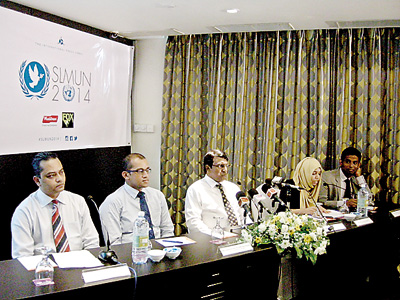 Charge D'Affaires, Rohan Ellawala said SLMUN has grown from humble beginnings to a grand magnitude owing to the multi-faceted talent of Sri Lanka's youth. "We respect our cultural and ecological diversity and are fervent in hope that the inspiration will help youth leaders to negotiate rather than confront." "This year's conference will speak of the pressing issues of sovereignty and security, while also laying emphasis on digital currency and resolving conflict in the crisis stricken areas of the world," said Secretary General, Raaliya Hussain. Raaliya added that this year will see the participants being more politically active with direct dialogue on the post war situation of the country. This is in a bid to get more youngsters involved in the workings of our country itself and even come up with resolutions that speak up for causes of national interest.
Speaking lengthily about the benefits of SLMUN -Guest Speaker at the launch- Yohan Senarath  (Observer of the Caribbean Community to the United Nations in New York, and Intern at Permanent Mission of Sri Lanka to the United Nations in New York) mentioned that diplomacy need not resonate in the international arena itself, but rather has everything to do with daily life."What MUN does is that it enhances the professional skill set of a person, and helps resolve problems." Yohan goes on to mention that these skills will eventually help an individual make better decision at a decisive juncture in life. As part of the initiative to extend their reach, SLMUN calls upon participant schools to sponsor other schools in rural areas of the country. This along with their volunteering arm -One World Volunteers- takes the essence of MUN beyond the three days of conference and gives back to the community.
This year's conference is supported by Maliban Sri Lanka and FOX Radio.  Having been successfully organised for nine consecutive years, SLMUN in its 10th year will see the participation of over a1000 students between the ages of 13-20 from all over Sri Lanka, as well as an international level, with students from Malaysia, India and Pakistan participating in the conference. SLMUN which is currently underway draws to a close today at the Water's Edge, Battaramulla. Learn more at www.slmun.org