What's cooking? Let's ask this master chef
By Adilah Ismail
Giving a taste of what will be on the menu at KaemaSutra, his latest restaurant venture in collaboration with Bollywood star Jacqueline Fernandez, Dharshan Munidasa of Nihonbashi fame shares some insights into his epicurean journey over the years
View(s):
In-between pictures of marinated egg yolks, visits to the pola, a 94 kg Bigeye tuna and Vesak decorations, a quick glance through Dharshan Munidasa's instagram feed gives you little glimpses of his latest venture: KaemaSutra. The new restaurant is a collaboration with model and actress, Jacqueline Fernandez and takes on contemporary Sri Lankan cuisine. "I've always wanted to do a Sri Lankan restaurant," explains Dharshan, quipping that he even had a name ready years ago –Dharshan's DaraKussiya. This 19-year pipe dream in its new avatar plays on numerous childhood memories and various innovations on traditions.

Although reticent about the menu and the façade of the restaurant, Dharshan is crystal clear about certain epicurean precepts. I'll tell you what it's not," he says emphatically, "it's not fusion. It's not curries plated on toys (where they put rice in cups and just plate it). It's a no-cutlery restaurant – cutlery is on request. It's talking to your DNA and on what soul food is for Sri Lankans".
Essentially KaemaSutra is a culinary quest to understand who the modern Sri Lankan is and about making good, authentic food that is easy to eat without any unnecessary fanfare: "We're not just trying to serve traditional food– we're bringing it up-to-date". The menu will feature slow-cooked food and dishes prepared as soon as you order – freshness is imperative in preparation and is one of Dharshan's uncompromising culinary touchstones. "My staff at Nihonbashi can taste the difference between frozen chicken and unfrozen chicken in a curry," asserts Dharshan, adding that even at his Ministry of Crab restaurant, the coconut for the pol sambol is grated immediately upon ordering for it gets oxidized if kept for too long. The restaurant is slotted to open in early to mid-July and its name is a pun derived from 'Macansutra' – a restaurant guidebook headquartered in Singapore.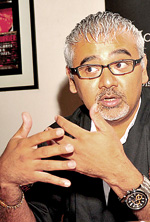 "Nihonbashi and Ministry of Crab have so many accolades and I think people walk into my restaurants with a lot of expectations," muses Dharshan, "We cannot let complacency set in, we have to keep pushing the envelope and we have to keep on improving what we do." Whether it is tramping through the Negombo fish market, picking up spices from a pola or working with a local farmer to obtain okra before it ripens and reaches full size, the exactness of sourcing fresh ingredients ensures that Dharshan keeps a hands-on approach in his work. He actively seeks out new ingredients instead of it coming to him, already dressed or frozen.
From vendors at Tsukiji Fish Market (the biggest wholesale fish market in the world) who greeted and treated him like a son and to the weather-worn fishermen from Pettah and food suppliers who gently showed him the nitty-gritties of grading and finding meatier crabs –Dharshan Munidasa's culinary lessons stemmed from unexpected locations. "I think I learned from every dish, every street-hawker and vendor of every country. I never went to hotel school," he explains, "so every dish I've eaten is obviously a lesson – some good, some bad." Prompted by bad dorm food and in pursuit of good victuals, Dharshan acquired his first cast iron skillet at the age of 19, sought initial advice through long-distance calls from relatives from both Japan and Sri Lanka and began drawing up weekly menus and meticulously planning grocery lists to maintain a fine balance between food and finances. A firm believer that with a modicum of method, you don't spend too much time cooking, he was even pickling food and enjoying steak on a student budget while at university.
The scrupulous planning and a sharp eye on authentic ingredients and the little details are remnants from his student days and have accompanied his epicurean journey over the years. Nihonbashi is Sri Lanka's representation in Asia's 50 best restaurants list for 2013 and 2014 and has a wide-ranging menu from sushi, sashimi to wagyu beef and its own yakitori garden, while Ministry of Crab – a venture with cricketers Mahela Jayawardene and Kumar Sangakkara -offers multiple variations on the theme of crab.
What kind of food does a chef indulge in, when at home? "Not much. Because I wake up, have coffee, come to work. When I go back home, I shower and go to sleep. I work 7 days a week. But when I do cook at home, it's for my daughter," explains Dharshan, flipping through his phone to show pictures of a recently prepared meal (steak, salad, truffle mash) with another friend, for their daughters. An oft-heard occupational hazard of being an award-winning chef is that people are scared to cook for you. "I've heard that a lot," chuckles Dharshan, "I'm very simple in what I eat. I love good food, made simple, made well."
Food facts
Favourite 5 ingredients you like working with: Beef, fish, eggs ("I marinated egg yolks a few days ago. It came out nicely"), chicken ("I love cooking chicken"), pork. Top 3 mistakes that most cooks In Sri Lanka make: overcook, over-salt and overdo 
Top 3 favourite restaurants around the world: Gaggan, Bangkok ("Indian Molecular cuisine -the food is as crazy as the owner"); NihonryoriRyuGin, Tokyo and Jubako, Tokyo (A 230 year old Unagi restaurant) Favourite comfort food: Lost for choice but it depends on where I am. If I'm in Sri Lanka, I would say kiribath and if I'm in Japan, I would say ramen.