A play to capture your imagination
With beautiful music penned by Jason Robert Brown, Theatre Junction's
View(s):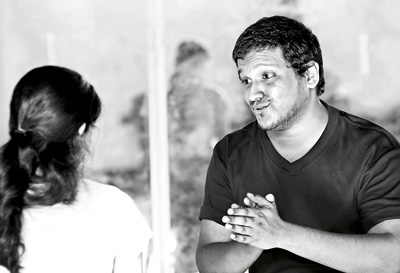 An intense, emotionally gripping story about two New Yorkers who fall in and out of love in their twenties, 'The Last Five Years' will capture your heart with its beautiful music penned by Jason Robert Brown and the unique brand of forward-backward story telling which it so headily embraces.
Presented by Theatre Junction under the direction of Anushka Senanayake and the musical guidance of Natasha Senanayake, the play will go on the boards of the Lionel Wendt next weekend.
"This particular script was one I felt strongly about ever since I first heard the soundtrack," says Anushka, whose group Theatre Junction last presented Dead Man's Cellphone in 2013. "I hadn't really decided I wanted to direct a musical as such, but just before I was to return to Colombo after graduation things started falling into place for this production and without any hesitation I decided to go along for the ride!"
The director formed Theatre Junction in 2012; their first production, Time and Motion, was well received. This production may seem different to the previous on the surface, she points out, but in essence "I feel that there is a great deal of common ground. I don't believe I've changed directions by choosing this production but rather that this choice has reinforced my love for working on contemporary theatre productions, specifically pieces that highlight the nature of human connection and our reactions to the element of time."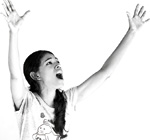 The story is set in New York City, where a young couple's relationship alternatively blossoms, fades and matures over the course of five years. Jamie, a rising novelist and Cathy, a struggling actress are both the protagonists and storytellers of this tale. The play finds its individuality with the storytelling; Jamie narrating in chronological order while Cathy begins her tale at the end of the relationship and moves backward in time over the production. The story may seem quite simple and straightforward, says Anushka, but it is in "the catchy music, the quirky lyrics, the song cycle structure and how different this is to your typical musical," that 'The Last Five Years' will capture your imagination.
In bringing to life the story of two people facing the everyday challenges of a relationship, it is Jason Brown's clever lyrics and music that plays a pivotal role. This is where Natasha, a qualified musician who was recently appointed the Commonwealth Music Ambassador for a year's cycle, steps in to provide musical direction. "There is no doubt that everyone who hears this music can relate to the words of at least one song in this musical," she says. "The songs cleverly explore various ups and downs of two people committing to each other. Jason Robert Brown has crafted the lyrics well, and has explored various musical styles in his score. The music is effective in conveying the message and meaning behind each song. The standard orchestration used for this music score (Piano, Guitar, Cello, Bass, and Violin) also really enhances the songs and provide a unique backing to the voices."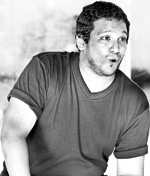 In bringing to life the roles of Cathy and Jamie, it is Anushka herself and accomplished tenor Asitha Tennekoon who will take to the stage. This is a first for Anushka, who had hoped to either direct or act in this musical for some time-she hadn't imagined that she'd actually be doing both, she says. This fairly herculean task may not be as bad as it sounds, however; in Asitha she will find an accomplished co-star, and the collaboration with the renowned Eshantha Peiris, Isaac Smith and Sarani Perera of Musicmatters, along with Sachiththa Fernando and Savini Chandrasinghe are sure to lighten the load.
Watch 'The Last Five Years' unfold on July 4 and 5 at the Lionel Wendt, Colombo. Tickets available at the venue.