'Curry Leaves': Authentic Indian cuisine
View(s):

Authentic North Indian Restaurant and Sports Pub 'Curry Leaves' in Wellawatta is a popular restaurant for sizzling North Indian cuisine and a hangout place for sports lovers. Curry Leaves Restaurant which draws many locals and Indians alike offers a tempting array of North Indian delights especially Hyderabadi and Punjabi dishes with few Chettinad specials on their menu. Apart from the culinary delights, Curry Leaves is a attraction for night birds, who loves to watch World Cup matches and sing Karaoke.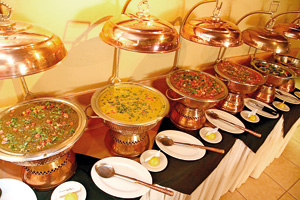 Curry leaves Sport Pub can accommodate around 100 seating  and offers a menu that consists of all types of Indian Kebabs and mouth watering chat, which blend well with all beverages while viewing sports channels in large screen TV ' Whether you're a gourmet of Indian food or just an inquisitive newbie, get ready for a gastronomic exploration of epic proportions at the Curry Leaves Restaurant' said its Managing Director Dil Wijemanne.
'There's nothing quite as savoury as the sights, sounds, smells and tastes of India's finest fare. And we just can't get enough of it. That's why we're serving up everything Indian, made with only the freshest ingredients and the purest spices to tempt you' he expalined.
'A range of Rotis, Biriyanis, kebabs and rice dishes, accompanying North Indian curries with their thick, moderately spicy and creamy gravies, and the flavours of a completely different kind in the richness of South Indian Food always attact not only Indians but very good Sri Lankan food lovers' he added.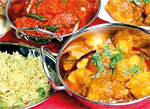 Curry Leaves Restaurant commenced operations in December 1998 and completed 16 years of service. With this successful tenure in service tucked firmly 'neath our belts, the Restaurant has become synonymous with authentically prepared, traditional Indian cuisine.  'We have now enhanced our menu to accommodate more varieties of North and South Indian food which is affordable to every budget, just for your satisfaction' Mr. Wijemanne said.
An extensive buffet spread offered during lunch and dinner and the equally impressive a la carte menu give diners the opportunity to relish the authentic taste of North Indian specialties. Curry Leaves, famous for its Thandoor specialties and Biriyani has a host of other must try vegetarian and non vegetarian dishes. Mutton Hyderabadi, chicken Hyderabadi, fish head curry, Noorjani kebab, Gosht boti kebab and paneer Hindustani tikka are some of the popular dishes on the menu.
In-house Speciality Chefs hailing from India, have an expert knowledge of a vast rangeof popular and well loved dishes. The Sea food range boasts of many of which the authentic North Indian pepper crab curry made of fresh Lagoon crabsand, the South Indian style Fish Head curry, are a definite must.
'We are proud to mention that the high standard of quality in authentic Indian food is appreciated by Indian visitors accompanied  to our restaurant on a regular basis by tour groups such as Walker tours, Jetwing travels , Aitken Spence travel, Royal Holiday, Apple Holiday, Red Apple Travels, Temptation Lanka etc.' Dil said
'Curry Leaces also undertake outdoor catering even up to 1000 PAX where the expert team bring the authentic  Indian cuisine and service to your own venue at affordable prices.  We also undertake all types of functions in our restaurant where we offer our full service accompanied by varies types of buffet menus where one could pick according to the budget available' he added.
The restaurant is located at 68 W. A. Silva Mawatha, Wellawatta.
Call on 0115234858, 0777311110 or 0112865078