Transformers moves around the country
View(s):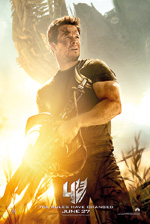 The film "Transformers- Age of Extention" the Hollywood blockbuster now being screened at several theatres islandwide including Majestic Platinum – Colombo and Jaffna-3D, LibertyLite and Sky Lite -3D, Sellam Premier-Chenkaladi 3D and two 3D theatres Chaya- Kegalle and Arena Katugastota.
A Michael Bay film, it revolves around an automobile mechanic and his daughter who make a discovery that brought down the Autobots and Decepticons – and a paranoid government official – on them. Produced by Steven Spielberg the film stars Mark Wahlberg, Stanley  Tucci Kelsey Grammer, Nicola Peltz and Jack Reynor.
As humanity picks up the pieces, following the conclusion of "Transformers: Dark of the Moon," Autobots and Decepticons have all but vanished from the face of the planet. However, a group of powerful, ingenious businessmen and scientists attempt to learn from past Transformer incursions and push the boundaries of technology beyond what they can control – all while an ancient, powerful Transformer menace sets Earth in its cross-hairs.