Don Gabriel paintings
View(s):

The Alliance française de Kandy will hold an exhibition of paintings of Richard Don Gabriel from 27 June to 7 July on its premises, located on 240/2 Peradeniya Rd, Kandy. The exhibition will be declared open by Michel Treutenaere, Counsellor on Cooperation and Cultural Action of the Embassy of France.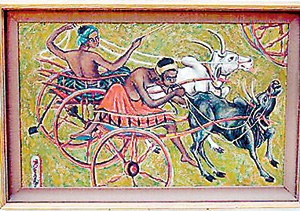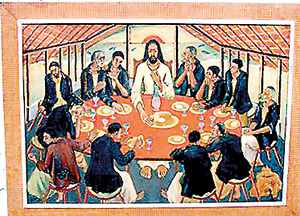 Payyagala Baduge Richard Mansuetus Don Gabriel, known as Richard Don Gabriel, is the only member of the famous '43 Group' who is still alive. He celebrated his 90th birthday on 19 February 2014 at Melbourne, Australia, where he lives with his daughter and son-in-law.
He joined the '43 Group' when he was 19 years old and was very close to Ivan Pieris and Harry Pieris, but he always developed his own style, vigorous and so rich in colours: his figures are generally tubular to a certain extent with a sculptural form.
They evolve in a rhythmic pattern which is a characteristic apparent in his compositions. As a Roman Catholic, his faith inspired him to represent religious scenes and he painted murals in different churches and seminaries over Sri Lanka.
The paintings which will be exhibited at Alliance française de Kandy belong to the private collection of Shamil and Roshini Peiris and include traditional Sri Lankan scenes, religious paintings, etchings and wood cuts.